Australian Technologies Curriculum
by Tara Atchley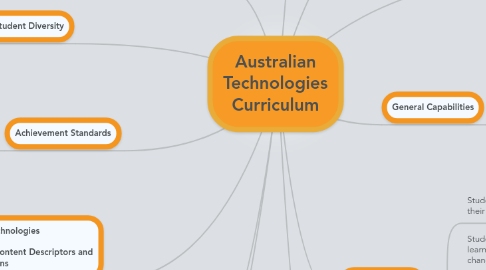 1. Subjects
1.1. Digital Technologies
1.2. Design Technologies
2. Design Technologies Strands, Content Descriptors and Elaborations
2.1. Knowledge and Understanding
2.1.1. Technology and Society
2.1.2. Technology Contexts
2.1.2.1. Engineering
2.1.2.2. Food and Fibre
2.1.2.3. Food Specialisations
2.1.2.4. Materials and Technology Specialisations
2.2. Processes and Production Skills
2.2.1. Creating Solutions By..
2.2.1.1. Investigating and Defining
2.2.1.2. Designing
2.2.1.3. Producing and Implications
2.2.1.4. Evaluating
2.2.1.5. Collaborating and Managing
3. Achievement Standards
3.1. Students achievement standards should show that they describe, identify, evaluate, demonstrate, record and sequence design ideas specific to their year levels content descriptors.
4. Student Diversity
4.1. Gifted and Talented
4.2. Students with Disability
4.3. English as a Second Language
5. Ways to Teach Technologies
5.1. Teacher selects specific content
5.2. Students apply skills
5.3. Students develop project management skills which engages systematical, design and computational thinking
6. Key Ideas
6.1. See 'Technologies Glossary'
7. Digital Technologies Strands, Content Descriptors and Elaborations
7.1. Knowledge and Understanding
7.1.1. Digital Systems
7.1.2. Representation of Data
7.2. Processes and  Production Skills
7.2.1. Collecting, managing and analyzing data
7.2.2. Digital implementation
7.3. Creating Solutions by..
7.3.1. Investigating and defining
7.3.2. Designing
7.3.3. Production and Implementation
7.3.4. Evaluating
7.3.5. Collaborating and Managing
8. General Capabilities
8.1. Literacy
8.2. Numeracy
8.3. ICT
8.4. Critical and Creative Thinking
8.5. Personal and Social Capabilities
8.6. Ethical Understanding
8.7. Intercultural Understanding
9. Cross Curriculum Priorities
9.1. Aboriginal and Torres Strait Islander Histories and Cultures
9.2. Asia and Australia's Engagement with Asia
9.3. Sustainability
10. Curriculum Aims
10.1. Students plan, design, produce and evaluate their solutions
10.2. Students use of creative ideas assists their learning of technology advancements and changes
10.3. They make informed decisions about technology outside of school
10.4. They use technology responsibly and confidently
10.5. They evaluate solutions
11. Australian Curriculum Band Levels
11.1. Foundation - Year 2
11.2. Year 3 - Year 4
11.3. Year 5 - Year 6
11.4. year 7 - Year 8
11.5. Year 9 - Year 10
12. Western Australian Curriculum
12.1. Individual content for P-Year 10
13. References: http://v7-5.australiancurriculum.edu.au/technologies/design-and-technologies/curriculum/f-10?layout=1 http://k10outline.scsa.wa.edu.au/home/p-10-curriculum/curriculum-browser/technologies