Appropriate Mobile Apps for a Kindergarten Classroom
by David Brown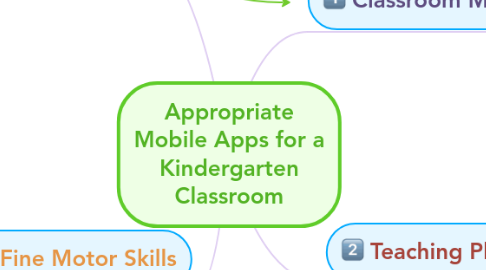 1. Teaching Phonemic Awarness
1.1. ABC Genius (Introduces basic skills to incoming Kindergarteners and preschool students. It is free!)
1.2. Making Words (This is also a free app that creates simple word puzzles for the children to work with).
1.3. Reading for ALL Learners (This is part of the I Am Sam reading series. It teaches basic sight words to young children).
2. Fine Motor Skills
2.1. Busy Shapes (This app is designed for children between the ages of 2 - 5. It provides several click and drag puzzles and activities for children).
2.2. Finger Fun HD (This is a learning games in which children have to play games in order to unlock a "magical level". It was designed and created by Kindergarten Teachers.
2.3. Dexteria (This app was created by Occupational Therapists to work specifically with children who have limited fine motor skills. This app is not as "flashy" as many of the others, however, it does a good job of reinforcing the basic fine motor skills that children need in order to succeed in school).
3. Assessment Tools
3.1. Preschool Assessment App (Even though it has a VERY basic and somewhat boring name, this app does a very good job of assessing basic readiness skills for children who are entering Kindergarten. The teacher can even create his or her own assessments using this app).
3.2. Flash Cards (This app can be used for most grades. It can also be programmed by the teacher to assess through Flash Cards. For example, a Kindergarten teacher could program this app the provide a random series of letters in order the assess a child's ability to identify and name letters).
3.3. Plickers (This app can be used to assess students with multiple choice questions. Once the app is downloaded (works well with an ipad) it can be programmed to assess an show immediate feedback to the teacher).
4. Classroom Management
4.1. Class Dojo (This app is free)
4.2. Too Noisy Pro (Has a sensor that sets off an alarm when the class becomes overly noisy)
4.3. Teacher Kit (Create class lists, grades, etc ...)