Roles, Goals, Projects, Ideas and Commitments
by
Roland Wijnen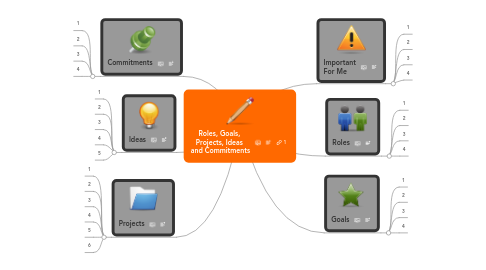 0.0
stars -
0
reviews range from
0
to
5
This mindmap is a companion of the How To Say No Guide, created by Roland Wijnen. If you're not yet subscribed to Roland's list, get your Guide here: http://rolandwijnen.com/blog/how-to-say-no/.
Important For Me
Define maximum five things that are important to you. Try to make these things as specific as possible. The things you list here impact your planning/calendar directly. E.g. if starting and ending the day with your family is important to you, that imposes limits on the time available for work (which is a good thing, because you'll work smarter). If reading is also important to you, you'll have to plan time to do this during the day or week.
1
2
3
4
Projects
List all your projects here: those that you already started and any upcoming projects.
1
2
3
4
5
6
Goals
List all of the goals you would like to realize the next year(s). Just brainstorm about your goals.
1
2
3
4
Ideas
List all your ideas here.
1
2
3
4
5
Roles
List all the roles you play at the moment. Thinking about your roles in work and life could help you to define goals.
1
2
3
4
Commitments
List all your committments, personal and work-related, here.
1
2
3
4