New Path
by Amanda Fodaro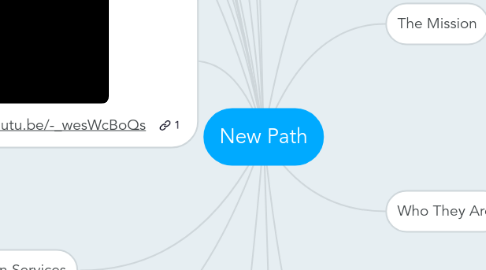 1. The Vision
1.1. Supportive Communities and Better Futures
2. The Mission
2.1. New Path Youth and Family Services leads and inspires positive change. We promote mental health and wellness for children, youth, and families and their communities through an innovative multiservice approach.
3. Who They Are
3.1. New Path Youth and Family Services of Simcoe County is the Lead Agency in Simcoe County for Moving on Mental Health. We are an accredited children's mental health centre providing a range of compassionate,innovative and accessible services for children, youth and their families throughout Simcoe County. New Path is funded through multiple funding sources including the Ministry of Children and Youth Services, the Ministry of Community and Social Services and Ministry of the Attorney General.
3.2. We provide direct service to children and adults, and develop resources for new programs. Everyone at New Path works together to create better futures for people and their communities.
4. Services offered in multiple languages
4.1. English
4.2. French
4.3. Any upon request
5. Where
5.1. All of Simcoe
5.1.1. Barrie Alliston Bradford Collingwood Cookstown Midland Orillia
6. Programs
6.1. New Path offers a range of services, although not all programs are available in each community.  Our staff and consultants include professionals from social work, child and youth work, psychology and psychiatry
6.1.1. Child and Youth Services
6.1.2. Adolescent Outreach
6.1.3. Attendance Centre
6.1.4. Community Partners with Schools (COMPASS)
6.1.5. Blind -Low Vision Program
6.1.6. CTN Child and Family Counselling Program
6.1.7. Early Years Services
6.1.8. Infant Hearing Program
6.1.9. Intensive Services for Students Program (ISSP)
6.1.10. New Directions Treatment Program
6.1.11. Probation In House Clinical Services (PICS)
6.1.12. Residential Program
6.1.13. Respite
6.1.14. Youth and Family Counselling
6.1.15. Adult Services
6.1.16. Partner Abuse Program Women's Services
7. Crisis Response Service
7.1. Toll free: 1-888-893-8333
7.2. Local: 705-728-5044
8. Health and Human Services
8.1. Kids Help Phone
8.2. 211 Ontario
9. The New Path Video https://youtu.be/-_wesWcBoQs
10. Resources for Families
11. The following resources are available for families to access:
12. Family Voice Needed
13. https://www.adoption.on.ca/permanency-adoption-competency-training
14. Transitional Age Youth – Summit Flyer
15. Flyer -FASD
16. New Path family consultation report for families
17. Sierrah Acres Youth Summer Programs Flyer
18. Gilbert Centre Summer Programming
19. Parenting LGBT Youth – Support Group
20. Parents for Children's Mental Health is hiring Regional Family Engagement Leads. This is a great opportunity for families who are raising children/ youth with mental health disorders/illnesses. Click here http://www.pcmh.ca/RegionalLeadJobPosting