OurForge
by
Harald Kirschner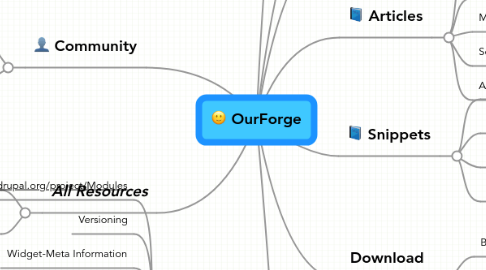 5.0
stars -
1
reviews range from
0
to
5
OurForge
Download
Builder
Download Cart?
Projects + Dependencies
Articles
http://articles.slicehost.com/
http://bakery.cakephp.org/articles/
Meta-Information + Markdown Text
Screencasts?
Asset upload via Flickr?
Snippets
http://snipplr.com/
http://www.symfony-project.org/snippets/
Via API from snipplr?
Combined with snippely?
Community
Open-ID Auth
IRC-Log?
All Resources
Reviews + Rating
Also called comments :)
Categorized by Tags
Semantic Tagging? ;-)
Everybody can add tags?
Projects
http://drupal.org/project/Modules
Versioning
Widget-Meta Information
Screenshots + Screencasts?
Download Builder
Dependency-Mapping
MooTools Core
Other projects
Namespaced, core/Version?/Natives/Hash, forge/ProjectName/Version?/File
Tickets
Via Lighthouse API?
Really simple
Changelog/RSS
Links
A tagged link collection from all users to Articles/Snippets/Projects, etc. Maybe also to sites who use MooTools (Testimonials?)
API Magnolia/del.icio.us?
Magnolia has also screenshots. Users could contribute by posting links to a special Forge group. Automated script could post links for non-magnolia users.
News
From Blog?
Via Tumblr API?
Tumblr Groups allow posting from several people
Forum
We all love it?!