Jonathan Happel
by Jonathan Happel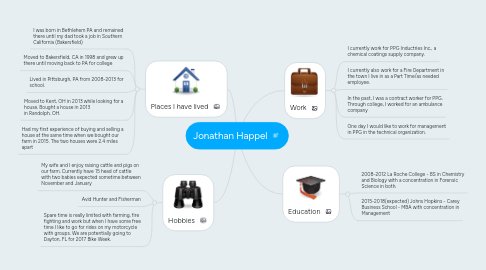 1. Work
1.1. I currently work for PPG Inductries Inc., a chemical coatings supply company.
1.2. I currently also work for a Fire Department in the town I live in as a Part Time/as needed employee.
1.3. In the past, I was a contract worker for PPG. Through college, I worked for an ambulance company
1.4. One day I would like to work for management in PPG in the technical organization.
2. Education
2.1. 2008-2012 La Roche College - BS in Chemistry and Biology with a concentration in Forensic Science in both.
2.2. 2015-2018(expected) Johns Hopkins - Carey Business School - MBA with concentration in Management
3. Hobbies
3.1. My wife and I enjoy raising cattle and pigs on our farm. Currently have 15 head of cattle with two babies expected sometime between November and January
3.2. Avid Hunter and Fisherman
3.3. Spare time is really limited with farming, fire fighting and work but when I have some free time I like to go for rides on my motorcycle with groups. We are potentially going to Dayton, FL for 2017 Bike Week.
4. Places I have lived
4.1. I was born in Bethlehem PA and remained there until my dad took a job in Southern California (Bakersfield)
4.2. Moved to Bakersfield, CA in 1998 and grew up there until moving back to PA for college
4.3. Lived in Pittsburgh, PA from 2008-2013 for school.
4.4. Moved to Kent, OH in 2013 while looking for a house. Bought a house in 2013 in Randolph, OH.
4.5. Had my first experience of buying and selling a house at the same time when we bought our farm in 2015. The two houses were 2.4 miles apart