Articles A - An. they are used to refer to something or someone in singular form,...
by Mauricio Cruz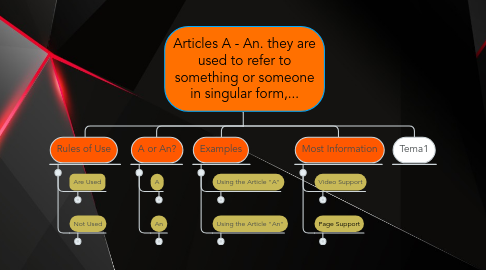 1. Rules of Use
1.1. Are Used
1.1.1. *For members of Class are used with a name or noun.
1.1.2. *For describe objects and persons.
1.2. Not Used
1.2.1. *With names or plural nouns or uncountable
1.2.2. *next to another determinant, as they can be my and your
2. Examples
2.1. Using the Article "A"
2.1.1. My uncle is a good Engineer.
2.1.2. Hi, My name is Mark, I'm a Student
2.1.3. She is a Teacher
2.1.4. He is a quiet person
2.2. Using the Article "An"
2.2.1. You see over there? it's an island
2.2.2. This is an excellent idea
2.2.3. I am an interpreter contributor
2.2.4. She is an extrovert
3. A or An?
3.1. A
3.1.1. The article "A" is used for names or nouns that begins with consonants.
3.2. An
3.2.1. The article "An" is used to names or nouns beginning with a vowel.
4. Most Information
4.1. Video Support
4.1.1. Articles A and An
4.2. Page Support
4.2.1. Articles A and  An
4.2.2. Practice the articles
5. Tema1