MY PLANS FOR SENIOR HIGH SCHOOL AND COLLEGE
by Chelsea Gabay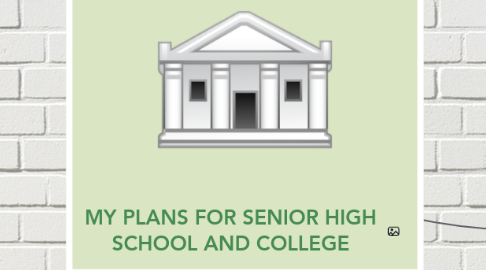 1. I WANT TO PASS WITHOUT ANY FAILING MARKS!
1.1. GET AN ACADEMIC AWARD!
1.2. GET A HIGH SCORE IN ORAL PRESENTATIONS!
1.3. GET A PERFECT SCORE IN MATH!
2. JOIN THE DANCE CLUB!
2.1. GET INTO A DANCE VARSITY TEAM
2.2. PARTICIPATE IN DANCE COMPETITION INSIDE AND OUTSIDE OF THE CAMPUS
2.3. BECOME THE DANCE CLUB PRESIDENT
3. JOIN A CLUB THAT HAS SOMETHING TO DO WITH MEDICINE
3.1. VOLUNTEER IN MEDICAL MISSION!S
3.2. GET INFORMATION ABOUT MEDICAL SCHOOL!
3.3. GET EXTRA CREDIT FOR MED SCHOOL
4. BE RECOMMENDED TO SIMON FRASER UNIVERSITY BY DLSU
4.1. PARTICIPATE IN A LOT OF EXTRA-CURRICULAR ACTIVTIES
4.2. BE NOTICED BY THE ADMINISTRATION FOR MY ACADEMIC PERFORMANCE
4.3. GET AN INVITATION TO STUDY AT SFU OR FOR A STUDENT EXCHANGE PROGRAM
5. GRADUATE SENIOR HIGH WITH FLYING COLORS
5.1. GET A LOT OF MEDALS FOR MY ACADEMIC PERFORMANCE
5.2. GET A MEDAL FOR MY PARTICIPATION IN DANCE CLUB
5.3. GET INTO SFU OR DLSU FOR PRE-MED AND MEDICINE SCHOOL