Should all students be drug tested on a monthly bases? (not just athletes)
by Madyson Foreman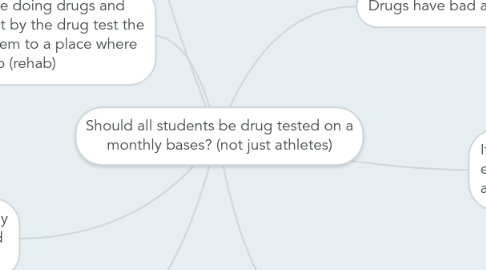 1. Drugs have bad affects on teens lives.
1.1. Short Term
1.1.1. Can kill them by overdose
1.1.2. Can affect a persons decisions and their judgment in certain situations
1.1.2.1. This can result in bad performance in school and or extra curricular activities.
1.2. Long term
1.2.1. ADDICTION
1.2.1.1. Kids have a higher chance of getting addicted to something compared to what adults have.
1.2.2. Social and family issues
2. Kids who get caught doing drugs might realize how bad it actually is for them
2.1. Some kids will actaully learn from their mistakes unlike others
2.1.1. Mandatory drug testing will actually be a good thing in the end.
3. For the kids who dont play sports if they know they are going to get drug tested they will not get into such bad thing,
3.1. if they did get into bad things (drugs) they would suffer consequences
4. Counter argument
4.1. Kids might feel like they are losing their rights
4.1.1. When kids say that they are losing their rights it is not true meaning what they are doing is illegal.
5. For the kids that are doing drugs and say they get caught by the drug test the school can send them to a place where they could get help (rehab)
5.1. Some students will deny the rehab and try not to g but it should be mandatory that if they get caught doing drugs that they get the help that they need.
6. If schools did mandatory drug testing for everyone they would now exactly who is and who inst using drugs
6.1. Look up the percentage of teens who use drugs and other facts about them
7. Intro
7.1. Talk about the affects of drugs on teens and they percentage of how well drug testing actually works
7.1.1. how many teens use drugs and get help by drug testing.