Website Planning
by Francesca De Luca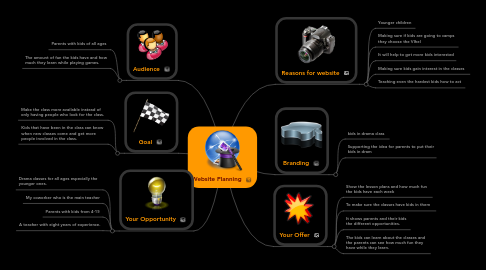 1. Goal
1.1. Make the class more available instead of only having people who look for the class.
1.2. Kids that have been in the class can know when new classes come and get more people involved in the class.
2. Your Opportunity
2.1. Drama classes for all ages especially the younger ones.
2.2. My coworker who is the main teacher
2.3. Parents with kids from 4-15
2.4. A teacher with eight years of experience.
3. Your Offer
3.1. Show the lesson plans and how much fun the kids have each week
3.2. To make sure the classes have kids in them
3.3. It shows parents and their kids the different opportunities.
3.4. The kids can learn about the classes and the parents can see how much fun they have while they learn.
4. Audience
4.1. Parents with kids of all ages
4.2. The amount of fun the kids have and how much they learn while playing games.
5. Reasons for website
5.1. Younger children
5.2. Making sure if kids are going to camps they choose the VIhel
5.3. It will help to get more kids interested
5.4. Making sure kids gain interest in the classes
5.5. Teaching even the hardest kids how to act
6. Branding
6.1. kids in drama class
6.2. Supporting the idea for parents to put their kids in dram