WHAT IS DANCE FOR ME?
by Kim Verbeke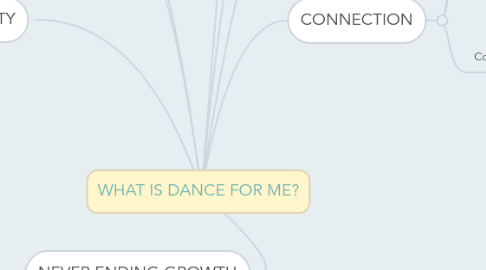 1. Expression, artistic freedom
2. CONNECTION
2.1. Connecting body and mind
2.1.1. Health
2.2. Connecting to earth, nature
2.2.1. What is true, what is important?
2.2.1.1. Fundamentals are missing :(
2.3. Connecting to people
2.3.1. Art unites
2.3.1.1. Should be accesible to everybody
2.3.1.2. It is a universal language
2.3.1.2.1. Dance as a suggestion for
2.3.2. Collaboration
2.3.2.1. Communication
2.3.2.1.1. Importance of clarity Swim, don't float
2.3.2.2. Honesty Openness Respect Sharing Shared understanding
2.3.3. Public
2.3.3.1. Feedback and second opinions
3. MAINTAIN PASSION, PLEASURE AND PLAYFULNESS. The importance of love and laughter!
4. THE IMPORTANCE OF HIGH QUALITY
4.1. Craftsmanship, skill, virtuosity
4.1.1. Energy
4.1.2. Working deeply and consistently
4.1.3. Knowledge
4.2. No end-gaining Proces>Result
5. NEVER ENDING GROWTH
6. Believe and trust what you are doing
7. A career in dance can be exclusively about your own choices. You can work very hard, you can take it easy, as you wish it. I doesn't need to be a hard knock life.
8. KNOWING WITH WHOM YOU WANT TO WORK