Washington v. Washington Hospital Center, 579 A.2d 177 (1990)
by Edward Tanner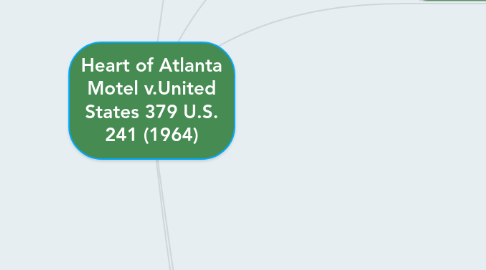 1. Facts
1.1. Parties
1.1.1. Plaintiff: LaVerne Thompson, et al
1.1.2. Defendant: Washington Hospital Center (WHC)
1.2. What happened
1.2.1. 11/7/1987: Ms. Washington underwent an elective abortion and tubal ligation requiring general anesthesia at WHC
1.2.1.1. Patient was intubated by anesthesiologist (Dr. Walker) and nurse anesthetist (Ms. Adland)
1.2.1.2. Surgeon (Dr. Bobrow) noticed patient's blood was suspicious for hypoxia; Dr. Walker did not agree as patient appeared stable
1.2.1.2.1. Staff did not use an end tidal CO2 monitor to assess for hypoxia during the procedure
1.2.1.3. Patient developed cardiac arrest requiring cardiopulmonary resuscitation
1.2.2. Patient remains in persistent vegetative state due to hypoxic brain injury
1.2.2.1. Patient will never recover from this condition and could live an additional 10-20 years
1.3. Procedural history
1.3.1. Patient's family filed suit Dr. Bobrow (surgeon), anesthesiologist (Dr. Walker), nurse anesthetist (Ms. Adland), Medlantic Health Care Group, and Washington Hospital Center
1.3.1.1. Court dismissed claim against surgeon (Dr. Bebrow) without prejudice
1.3.1.2. Anesthesiologist (Dr. Walker) and nurse anesthetist (Ms. Adland) settled claims against them
1.3.1.3. Plaintiff voluntarily dropped claim against Medlantic Heath Care Group
1.3.1.4. Case proceeded to jury  regarding personal injury claim and consortium claim against WHC
1.3.1.4.1. Jury returned a verdict of $4.586 million for Ms. Thompson and $63,000 for her husband against remaining defendant (WHC) based on failure to provide an end tidal CO2 monitor to assess for hypoxia during the procedure
1.3.1.5. Expert testimony provided by Dr. Steen established that CO2 monitors were available in several ORs around the country and that these monitors could identify hypoxia earlier
1.3.1.5.1. Dr. Steen did not state that failure to have a CO2 monitor represented a deviation from the standard of care
1.3.2. Defendant appealed to District of Columbia Court of Appeals
2. Critique
2.1. Issue Before the Court
2.1.1. Whether testimony provided to a jury could be used to infer a conclusion about the standard of care whether an explicit statement of a standard had been made
2.2. Rule of Law
2.2.1. Testimony provided by expert witnesses does not necessarily need to provide explicit conclusions regarding the establishment of a standard of care if that standard of care could be reasonably inferred by the jury
2.3. Application
2.3.1. Appellee argued without success that the testimony provided by expert witnesses did not amount to conclusive evidence that a breach in the standard of care occured
2.3.1.1. Dr. Steen stated that CO2 monitors were available at four hospitals but that they were not yet included as a standard of care in available guidelines
2.3.2. Appellant argued that a reasonable person (i.e. member of the jury) could have inferred that failure to have a CO2 monitor despite available evidence demonstrating the added safety of such devices represented a breach in the standard of care, regardless of whether guidelines reflected this expectation
2.4. Conclusion
2.4.1. Trial court ruling was upheld
2.5. Implications
2.5.1. Just like emerging standards of care, expert opinion must reflect rapid changes in medical practice. As such, management that was recently acceptable can become obvious, even to lay persons, when standards change quickly
2.6. Influences
2.6.1. Hospitals must be continually vigilant to bring their behaviors up to the standard of care regardless of whether that standard is yet supported by guidelines or a preponderance of hospitals using new techniques
3. Assigned Questions
3.1. Does the plaintiff present sufficient evidence that the carbon dioxide monitor is now standard equipment for tertiary care hospitals?  The court seems to say that expert testimony is not critical, that evidence of use by other institutions is something a lay juror could evaluate even if expert testimony is deficient. Do you agree?
3.1.1. I agree that this is an acceptable standard. Just because an expert is present, it doesn't mean that jurors can't make inferences about medical topics based on available information
3.2. Is the Washington Hospital Center stuck in the zone of transition between older precautions and emerging technologies that improve patient care?
3.2.1. In a sense, hospitals have always been in this gray zone. With the pace of medical advances, these changes have only recently become more apparent, as are the difficulties with maintaining the standard of care