Alma D. Washington v Washington Hospital Center v Alma D. Washington
by Kait Moore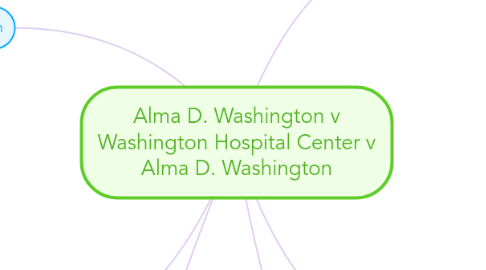 1. Facts
1.1. Paties
1.1.1. Alma D. Washington
1.1.2. Washington Hospital Center
1.2. What Happened
1.2.1. LaVerne Alice Thompson (Mother and Daughter of LaVerne are Appellants) went to Washington Hospital Center for an abortion and tubal litigation on November 7, 1987.
1.2.2. Elizabeth Adland, Nurse Anesthesiologist supervised by Dr. Sheryl Walker, physician anesthesiologist, inserted endotracheal tube into Thompson's throat. The plaintiffs alleged that the tube was improperly inserted into Thompson's esophagus, instead of the Thompson's trachea.
1.2.3. Thompson suffered a cardiac arrest and catastrophic brain injuries. Thompson was in a persistent vegetative state at the time of trial.
1.3. Procedural History
1.3.1. Trial court ruled against Washington Medical Center.
1.3.1.1. Found that Washington Medical Center did not meet the standard of care for monitoring patients during anesthesia with CO2 monitors.
1.3.1.2. Awarded $4.586 million to Thompson for personal injury and $63,000 to Michael Thompson, husband of the injured, for loss of consortium.
1.3.1.3. Trial court awarded summary judgment to hospital on Appellants' claims of loss of consortium.
1.3.2. Appellants' appealed summary judgment and Washington Hospital Center cross-appealed to the District of Columbia Court of Appeals.
2. Issues Before the Court
2.1. Whether the plaintiff in a medical malpractice case established the tripartite burden of (1) applicable standard of care (2) a deviation of the standard by the defendant (3) a causal relationship between the deviation and plaintiff's injuries.
2.2. This appeal specifically questions the establishment of an applicable standard of care.
2.3. The issues of loss of consortium, abuse of discretion in refusing to declare a mistrial due to juror contact with expert witness, and defendant's entitlement to a pro rata or protanto credit as a result of a settlement between the plaintiff and other defendants are also before the court.
3. Rule of Law
3.1. Necessary elements of establishment of an applicable standard of care.
3.1.1. Plaintiff must establish the caution and prudence that a reasonable person would exercise under the circumstances or that is required by appropriate authority for such situations.
4. Application
4.1. Hospitals are responsible for standardizing the use of innovations that can improve patient safety.
4.1.1. Healthcare administrators should prioritize adoption of innovations that improve patient safety.
4.1.2. Healthcare administrators must ensure requests from department chairs are filled in a timely manner. In this case, the hospital's failure to operationalize the CO2 monitors by the date listed on the requisition form serves as evidence that Washington Hospital Center did not meet the standard of care.
4.1.3. Healthcare administrators must be aware of the practices used in similar hospitals to ensure their institution is meeting the standard of care.
4.2. Practices of other hospitals, expert opinions, and an insititution's own efforts to adopt a given standard can be combined to support evidence of the standard of care in questions.
4.2.1. In Vincent A. Hill v Medlantic Health Care Group the court found that, while the expert opinion given drew on similar aspects as the expert opinion provided in Washinington v Washington Hospital Center, the appellant did not provide other evidence to bolster the opinion of the expert, such as the use of the standard in other hospitals.
4.3. Business Practice Implicate
4.3.1. Healthcare professionals must view the standard of care as evolving. New technologies do change the standard of care and thus will change the way healthcare providers practice.
4.3.2. Healthcare professionals must determine the standard of care by taking a broader view of the use of new practices.
5. Conclusion
5.1. Affirmed
6. Citation
6.1. Greenberg, Michael D. "MEDICAL MALPRACTICE AND NEW DEVICES: DEFINING AN ELUSIVE STANDARD OF CARE." Health Matrix: Journal of Law-Medicine, 2009. Web. 17 Sept. 2016.
6.2. VINCENT A. HILL, et al., APPELLANTS, CA 5310-00 v. MEDLANTIC HEALTH CARE GROUP, et al., APPELLEES. Nos. 05-CV-776 & 05-CV-806, DISTRICT OF COLUMBIA COURT OF APPEALS, 933 A.2d 314; 2007 D.C. App. LEXIS 585, May 22, 2007, Argued October 4, 2007, Decided