Mills v Pate
by Kait Moore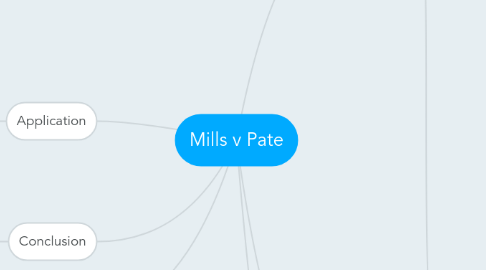 1. Facts
1.1. Parties
1.1.1. Joyceline Mills
1.1.2. Dr. John Pate
1.2. What Happened
1.2.1. Ms. Mills had a consultation with Dr. Pate on September 29, 1999
1.2.1.1. Ms. Mills wanted to remove the fat bulges on her abdomen, hips and thighs
1.2.1.2. Dr. Pate told Ms. Mills that all of the bulges and sags in her skin would be gone after liposuction
1.2.1.3. Dr. Pate's medical notes indicate that he informed Ms. Mills that she may need a small crescent tuck to her abdomen or medial thigh lift to obtain desired results following the liposuction. Ms. Mills contests that she was not told this
1.2.1.4. Dr. Pate told Ms. Mills that he did not think she would need a tummy tuck
1.2.2. Ms. Mills signed an informed consent on November 17, 1999
1.2.2.1. Stated that in 4-5% of cases, a touch-up procedure is needed
1.2.2.2. Did not state that the patient may have ripples, indentations or  abdominal abnormalities following liposuction
1.2.3. Ms. Mills first procedure was on December 2, 1999
1.2.3.1. Liposuction consisted of surgery on Ms. Mills' abdomen, hips, flanks and thighs
1.2.3.2. Ms. Mills followed all postoperative instructions
1.2.3.3. 3-4 months following the procedure, Ms. Mills had two roles under her right breast and sagging skin on her thighs. Dr. Pate told Ms. Mills not to worry about these as it was swelling.
1.2.3.4. After 6 months, Dr. Pate told Ms. Mills to pay him for a thigh lift, and he would touch up the roles and sagging skin.
1.2.4. Ms. Mills signed a second informed consent form on January 9, 2001
1.2.4.1. Informed consent form disclosed the risk of dissatisfaction, need for future revision, poor wound heeling, recurrence  of the original condition, and uneven contour
1.2.5. Ms. Mills second procedure was on January 16, 2001
1.2.5.1. Following the surgery, Ms. Mills had bagging, rippling, a bulge on her thigh, disproportionate hips and the bulge had moved from her right side to her left.
1.2.5.2. Ms.Mills was told that this was swelling
1.2.5.3. Ms. Mills had her final appointment with Dr. Pate on August 30, 2001. Dr. Pate told Ms. Mills at this time that she should have paid him to do a tummy tuck or abdominoplasty
1.2.6. Ms. Mills received an abdominoplasty and body lift
1.2.6.1. Ms. Mills was satisfied with the results
1.2.6.2. Dr. Gilliland stated that Dr. Pate's care and treatment was inadequate
1.3. Procedural History
1.3.1. The 364th District Court, El Paso, Texas granted summary judgment to Dr. Pate
1.3.1.1. Found that there was no evidence that Dr. Pate did not obtain Ms. Mills' informed consent to the second surgery
1.3.1.2. Found that warranty claim was an attempt to recast the negligence claim
2. Issue Before the Court
2.1. Whether the appellee received informed consent by obtaining the appellant's signature on the second informed consent form
2.2. Whether the appellee gave express warranty by promising a given result
3. Rule of Law
3.1. Evidence of duty, breach, causation or harm resulting from failure to disclose information
3.2. Breach of warranty requires the appellant to show the following
3.2.1. Appellee sold services to the plaintiff
3.2.2. The appellee made a representation by affirmation of fact, by promise, or by description AND that representation became the basis for the appellant's decision to pursue the service
3.2.3. The defendant breached the warranty expressed by the representation
3.2.4. The appellant suffered damages and notified the appellee of these damages
3.3. If the breach of warranty claim is a recast malpractice claim and should be subject to the Medical Liability and Insurance Improvement Act (MLIIA)
3.3.1. If appellant's claims are inseparable from  negligence claims, plaintiff must prove appellee did not meet the accepted standard of medicine
4. Application
4.1. Summary judgment confirms informed consent form without discussion of risks is sufficient
4.1.1. Healthcare providers may choose not to discuss risks with patients knowing that they are included in the informed consent form
4.2. If breach of warranty claims are not inseparable from negligence claims, court does not need to determine if a provider does not meet the accepted standard of medicine
4.2.1. Sited and distinguished in Hunsucker v Fustok, but court found that Hudsucker v Fustok was distinguished from Mills and Sorokolit
4.2.2. Mills relied heavily on the court's judgment in Rhodes v Sorokolit, which found that if a physician promises certain results, he/she may be held liable for breach of warranty
5. Conclusion
5.1. Affirmed trial court ruling on informed consent, reversed ruling on breach of warranty and remanded for further proceedings
6. Citation
6.1. CASEY HUNSUCKER, Appellant v. ABDEL K. FUSTOK M.D. AND ABDEL K. FUSTOK, M.D., P.A., Appellees, NO. 01-06-00066-CV, COURT OF APPEALS OF TEXAS, FIRST DISTRICT, HOUSTON, 238 S.W.3d 421; 2007 Tex. App. LEXIS 5460
6.2. ATRIUM COMPANIES, INC. and CHAMPION WINDOW, INC., Plaintiffs, v. ESR ASSOCIATES, INC., Defendant. ESR ASSOCIATES, INC., Counter-Claimant, v. ATRIUM COMPANIES, INC. and CHAMPION WINDOW, INC., Counter-Defendants., CIVIL ACTION NO. H-11-1288, UNITED STATES DISTRICT COURT FOR THE SOUTHERN DISTRICT OF TEXAS, HOUSTON DIVISION, 2012 U.S. Dist. LEXIS 154840
6.3. JANICE S. RHODES, APPELLANT v. BOB SOROKOLIT, M.D., APPELLEE, NO. 2-91-228-CV, COURT OF APPEALS OF TEXAS, SECOND DISTRICT, FORT WORTH, 846 S.W.2d 618; 1993 Tex. App. LEXIS 350