key information that a new teacher will need with regards to ICT matters
by Chen Xianghao Keith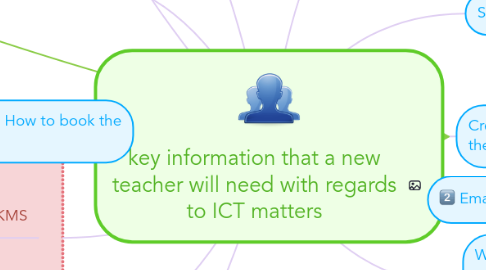 1. Email
1.1. who to look for when you have trouble logging in?
2. ICT Maintenance support - zero downtime
2.1. Regular and constant checks on computer systems
3. KMS
3.1. what are the folders?
3.2. Simple and logical structure
3.3. Specific site map for specific teachers
4. technical support, eg. How to book the Ipad
4.1. Service Request Link
4.2. who to refer to to reset any passwords
5. SC matters
5.1. Teacher's account (role)
5.2. Workflow chart for keying in and viewing/printing of reports
5.3. Subject Teacher
5.3.1. Teaching group assigned
5.3.2. managing results
6. Easy access to teaching and learning resources
7. SOPs
7.1. daily school activites
7.2. meetings
7.3. getting a laptop/any maintenance services
7.4. Account lock? Reset password?
8. Where to obtain all the different resources - teaching resources - booking of rooms
9. IAMS Account
10. Printing of worksheets
11. Create a booklet/information on all these information
12. TLC for laser printers