Social Media Training Plan Presentation                       By: Jocha Gordon
by Jocha Gordon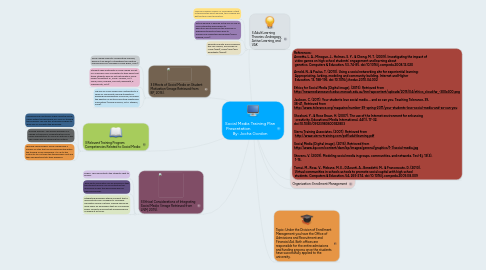 1. 3 Adult Learning Theories: Andragogy, Active Learning, and VAK
1.1. Malcolm Knowles Theory of Andragogy is that of teaching the adult learning, this is where we get the term Adult Education.
1.2. Active learning is defined as the use of one or more interactive approaches to education and training for the purpose of engaging students in their work to acquire and understand knowledge (Sierra Training, 2007).
1.3. Kenneth and Rita Dunn proposed the VAK Theory, also known as Visual (sight), Audio (hear) and Kinesthetic (touch).
2. 3 Effects of Social Media on Student Motivation (Image Retrieved from BP, 2016).
2.1. Social media supports collaborative learning, which in turn helps to strengthen the creative learning process (Shoshani & Rose Braun, 2007).
2.2. Students who participate in social media as part of a class feel more connected to their peers that those students who do not participate in social media (Annetta et al., 2009; Jackson, 2011; Tomai, Rosa, Mebane, D'Acunti, Benedetti, & Francescato, 2010)
2.3. The use of social media also contributes to a sense of community among students by allowing personalization of profiles, including the addition of pictures and other identifying information (Arnold & Paulus, 2010; Stevens, 2009).
3. 3 Relevant Training Program Competencies Related to Social Media:
3.1. Coaching and Mentoring: While using the social media within the workplace as a form of training the employer can use this a training program to work one on one with the employee.
3.2. Training Delivery: This allows whoever is in charge of training or moderating the social media presentation to come up with his or her own clever way of delivering the materia
3.3. Learning Technologies: Social Media have a number of sites that can be implemented within the training of any workplace. It is up to the instructor to first learn the technologies first and then see what best fits their audience
4. 3 Ethical Considerations of Integrating Social Media  (Image Retrieved from LNM, 2015).
4.1. FERPA: This law protects the students right to privacy
4.2. Third Party Information will be blocked so that the student records can be protected the employee access the world wide web for training purposes
4.3. Integrating workplace ethical conduct that is demonstrate from colleague to colleague. Mandatory Board of Ethics Training should be done yearly by employees that are considered public servants ensuring that professionalism is upheld at all times.
5. Organization: Enrollment Management
6. Topic: Under the Division of Enrollment Management you have the Office of Admissions and Recruitment and Financial Aid. Both offices are responsible for the entire admissions and funding process once the students have successfully applied to the university.
7. References: Annetta, L. A., Minogue, J., Holmes, S. Y., & Cheng, M. T. (2009). Investigating the impact of video games on high school students' engagement and learning about genetics. Computers & Education, 53, 74-85. doi:10.1016/j.compedu.2008.12.020 Arnold, N., & Paulus, T. (2010). Using a social networking site for experiential learning:   Appropriating, lurking, modeling and community building. Internet and Higher Education, 13, 188-196. doi:10.1016/j.iheduc.2010.04.002 Ethics for Social Media [Digital image]. (2015). Retrieved from http://newmediaresearch.educ.monash.edu.au/lnm/wpcontent/uploads/2015/04/ethics_cloud.fw_-300x300.png Jackson, C. (2011). Your students love social media ... and so can you. Teaching Tolerance, 39, 38-41. Retrieved from http://www.tolerance.org/magazine/number-39-spring-2011/your-students-love-social-media-and-so-can-you Shoshani, Y., & Rose Braun, H. (2007). The use of the Internet environment for enhancing  creativity. Educational Media International, 44(1), 17-32. doi:10.1080/09523980600922803 Sierra Training Associates. (2007). Retrieved from http://www.sierra-training.com/pdf/adultlearning.pdf Social Media [Digital image]. (2016). Retrieved from http://www.bp.com/content/dam/bp/images/general/graphics/1-1/social-media.jpg Stevens, V. (2009). Modeling social media in groups, communities, and networks. Tesl-Ej, 13(3), 1-16. Tomai, M., Rosa, V., Mebane, M. E., D'Acunti, A., Benedetti, M., & Francescato, D. (2010). Virtual communities in schools as tools to promote social capital with high school students. Computers & Education, 54, 265-274. doi:10.1016/j.compedu.2009.08.009