The impacts of Christopher Columbus' discovery of the New World, on Europe and the Americas.
by Layan Al Huneidi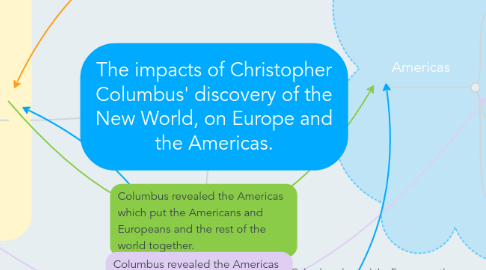 1. Americas
1.1. 1. Christopher notified the world about the Americas; which caused Columbus to reveal to the Europeans the plantation system and noticing the economical benefits of utilising natives or locals for forced labor.
1.2. 2. Due to Columbus revealing the Americas to the world, including the Europeans, the Europeans arrived to the Americas and devastated them due to the expansion of the diseases that the Europeans had brought with them.
1.2.1. For example, the Tiano's, Native Americans, hadn't developed in any born immunity to any of the European diseases.
1.2.2. Some of the disease were measles, mumps, chickenpox, smallpox, typhus, or others that they had mistakingly brought with them.
1.2.3. In a result, thousands of the Tiano died.
1.3. 3. New European weapons were used to dominate Native Americans/people to control and use them for labor/as slaves.
2. Europe
2.1. 1. Biggest voluntary migrations in world history and thousands of Europeans migrated.
2.2. 2. The national rivalries intensified in Europe due to the expansion overseas.
2.3. 3. Columbus and others to took voyages that caused them to detect plants and animals in the Americas.
2.3.1. Those plants and animals that Columbus and others detected in the Americas was new to the Europeans and Africans. (The Columbian Exchange)
3. Both
3.1. Columbus showed the Europeans the process of the plantation system and how the Americans used the locals for labor and the Europeans used that idea for themselves and started to take natives and turned them into slaves.
3.2. Columbus helped the Americans with trade, due to him finding animals and plants that the Europeans didn't have, so they could trade with them.
3.3. ?
3.4. The Europeans wouldn't have gotten any slaves if Columbus hadn't shown them the process of the plantation system in the Americas.