Sweet Memory Cafe
by Jovita Chauvin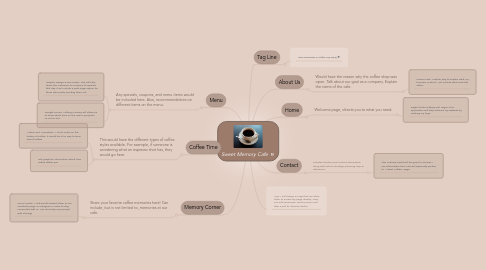 1. Contact
1.1. Includes location and contact information along with links to strategic planning map & references.
1.1.1. This is where credit will be given to sources I use information from This will especially pertain to "About Coffee" page.
2. About Us
2.1. Would have the reason why the coffee shop was open. Talk about our goal as a company. Explain the name of the cafe.
2.1.1. Screen Cast: Another way to explain what my business is about. Will include what each tab offers.
3. Coffee Time
3.1. This would have the different types of coffee styles available. For example, if someone is wondering what an espresso shot has, they would go here.
3.1.1. Videos and Animations: A short video on the history of coffee. It would be a fun way to learn about coffee!
3.1.2. Info-graphics: Information about how coffee affects you
4. Home
4.1. Welcome page, directs you to what you need.
4.1.1. Digital Photo Editing and Logos: This application will help enhance my website by creating my logo.
5. Memory Corner
5.1. Share your favorite coffee memories here! Can include, but is not limited to, memories at our cafe.
5.1.1. Social Media: A link would redirect them to our Facebook page or Instagram in order to stay connected with us. Can also help us promopt with sharing!
6. Menu
6.1. Any specials, coupons, and menu items would be included here. Also, recommendations on different items on the menu.
6.1.1. Graphic Design & QR Codes: This will help direct the customers to coupons of specials that day. It wil include a print page option for those who prefer printing them out.
6.1.2. Google Forum: Adding a survey will allow me to know which item on the menu is popular vs not so hot.
7. Tag Line
7.1. New memories a coffee cup away ❤︎
8. App: I will design an app that can allow them to access my page directly. They can add memories, see the menu and take a poll for favorite drinks!