Global Curriculum
by
Mike LeMay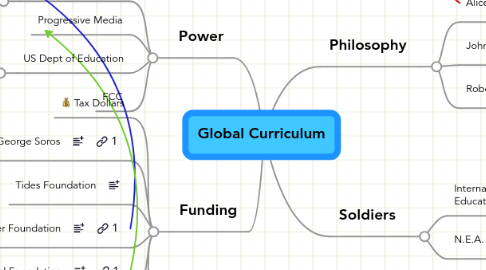 0.0
stars - reviews range from
0
to
5
Global Curriculum
Funding
Tax Dollars
Hungarian billionaire who has used his influence to manipulate world governments, education systems and currencies
Tides is a "network of independent non-profit organizations committed to positive social change, innovation, and responsible stewardship of resources." With more than 350 groups under its umbrella, it's the largest funding mechanism for the Progressive Movement in America, having given a quarter of a billion dollars in grants to such causes as the Needle Exchange Program (for IV drug users) and  Drug Policy Reform, "Honor the Earth" (funding frontline fighting by native groups for "environmental justice"), the 9/11 Fund (for a just and peaceful response to the tragedy), women's reproductive health, abolition of the death penalty, and the Democracy Fund, which fights marriage-protection laws, and promotes the wide-spread legalization of homosexual marriage and the development of gay and lesbian youth programs. Includes Tides Foundation, Tides Center, eGrants.org, Tsunami Fund, Thoreau Center for Sustainability, and Tides Canada. To quote its founder Drummond Pike, "The world around us cries out for understanding and change. We are dangerously risking the health of the planet that sustains us. The disparity between the haves and the have-nots, both domestically and internationally, must be addressed. Globalization may be sprinkling benefits among some in developing countries, but to many others it also brings real economic hardship and unwanted cultural influence. Our failure to incorporate respect for others possessing very different values and dreams is perhaps our greatest peril in the 21st Century. We have much work to do, and many good intentions to nurture."
Funder and founder of numerous educational institutions and causes, including the Johns Hopkins School of Public Health, the Harvard School of Public Health, and The New School, founded by John Dewey and other progressive New York academics as The New School for Social Research. The New School is currently renowned for its avant-garde teaching and housing the liberal think-tank World Policy Institute.
Helped develop the public broadcasting system, including helping create and launch Sesame Street. Also instrumental in pioneering "micro-credit" (small loans to the poor) and in financing the fight against AIDS. Through its International Fellowships Program, it provides fellowships to students from marginalized communities outside the U.S. to pursue graduate studies at universities anywhere in the world. Core elements of the foundation's mission: strengthen democractic values, reduce poverty and injustice, promote international cooperation and advance human achievement. The Foundation has also been accused of financing counter-insurgency programs in Indonesia and other countries, financing law school students and professors to participate in political activism through pro bono work for the poor, and supporting Palestinian NGOs.
Philosophy
Alice Bailey
Satan worshipper and humanist who planted the early seeds for a one world order and education system.  Influenced the thinking of John Dewey, the "father of American Education". 
John Dewey
The "father of Amerian Education" who co-wrote the Humanist Manifesto and was named the first honorary President of the National Education Association (NEA).
Robert Mueller
Under Secretary General of the UN for 40 years.  Muller implemented a global curriculum based on humanism and has opened more that 250 international schools spreading progressive, Marxist and humanistic ideas to students of all ages. 
Power
United Nations
Has forwarded a global curriculum proposing wealth redistribution, humanism and earth worship.  Also pushes for international justice courts to undermine the national sovereignty of nations.
Progressive Media
US Dept of Education
FCC
Soldiers
International Bureau of Education (IBE)
UNESCO International Bureau of Education (IBE); Geneva (Switzerland) specializes in educational contents, methods and structures. IBE shares expertise on curriculum development and aims to introduce innovative approaches in curriculum design and implementation, improve practical skills, and facilitate international dialogue on educational policies and practices.
The National Education Association, the public teachers' union, that openly proposes a global curriculum and progressive socialist political policies.