biggest. zit. ever.
by
mona n.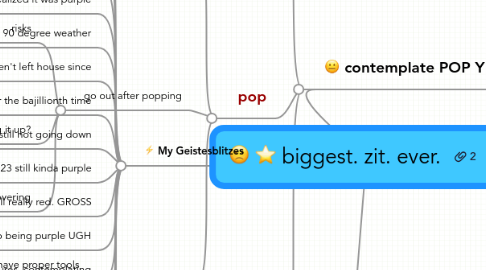 5.0
stars -
1
reviews range from
0
to
5
biggest. zit. ever.
This is just a demo map that you can delete right away, if you feel like it...
My Geistesblitzes
6/21 2am: first attempt at popping
@2:10ish: zit wouldn't pop
@2:30ish: gave up
@9am: woke up to a now quarter sized zit(!)
@9:15 looked in mirror and realized it was purple
@9:30ish went to brunch w/ scarf... in 90 degree weather
@11:30ish: came home and haven't left house since
@2:45ish icing it for the bajillionth time
@3:15 still not going down
@3:23 still kinda purple
@3:57 went down a little but still really red. GROSS
@4:04: 30 min w/out icing and it's back to being purple UGH
@4:30 request for pictures. contemplating
@5:03 still mean as ever. pictures uploaded via request. SO gross
@10:10 zit is still GINORMOUS
@11:20pm still RAGIN wtf!!!
@11:37 icing again
update: i tried popping it and it's EFin GNARLY
contemplate POP Y or N
not pop
pop
web-update-o-rama
not give a crap
miss chance to play with Mind Map
kill time to let it heal naturally
not miss out on weather
hope she grows a new zit
Going outside in the sun would actually help to shrink your zit