Cognitive Learning Theory
by Crista McGraw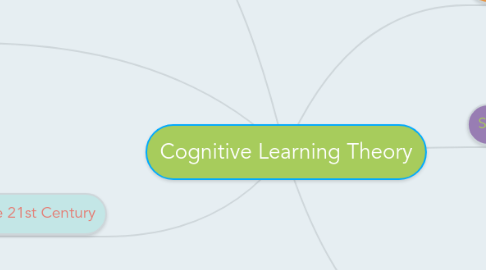 1. Piaget
1.1. Children develop in stages including: sensorimotor- begins at birth, preoperational- begins around 2 , concrete operations-  begin around 6 or 7  and formal operations-  begins around 11 or 12
1.2. Children learn through assimilation and accommodation. These two concepts help children learn knowledge and their understanding of the world. Adult learners apply what they already know about the world to their new learning
1.3. The child is in control of their learning, the develop understanding of what they see and observe
2. Similarities
2.1. Both studied children
2.2. Both conducted studies on children's abilities
2.3. Complex thinking increases with age and experience
3. Vygotsky
3.1. Children learn through social and cultural factors.  Adults can pass on their cultural knowledge through informal learning. Adults can learn from informal speaking to a healthcare provider, not in a clinical setting.
3.2. Learning occurs when an adult is interacting with a child (student) or supervising a child's activity. This is true of an adult student in a classroom setting.
3.3. Biological factors can influence learning
4. Application for Education- Adult Learners
4.1. Emphasis in learning should be on hands on experience and exploration of the world around students. Instruction with hands on learning is very effective
4.2. Provide a way to scaffold what students already know
4.3. Encourage learning in small groups
5. Learning Beyond the 21st Century
5.1. Recently there has been less emphasis on Piaget's theories and more emphasis on Vgotsky's theories
5.2. Classrooms should be designed with the opportunity to experience hands on learning
5.3. Learning opportunities should be provided that challenge students, learning can occur from older already experienced students
5.4. Encouraging more apprenticeships
6. Individual Perspective
6.1. Piaget and Vgotsky both show valid points in how children learn and develop. I believe that children/ adults learn best based on Vgotsky's theory. If  they have are challenged and have the correct guidance they can overcome a learning challenge, and embrace learning. Scaffolding material with what they already know will help students to embrace new information.