STEM
by john bobby gayagoy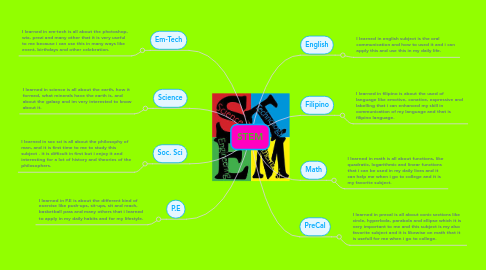 1. English
1.1. I learned in english subject is the oral communication and how to used it and i can apply this and use this in my daily life.
2. Filipino
2.1. I learned in filipino is about the used of language like emotive, conative, expressive and labelling that i can enhanced my skill in communication of my language and that is filipino language.
3. Math
3.1. I learned in math is all about functions, like quadratic, logarithmic and linear functions that i can be used in my daily lives and it can help me when i go to college and it is my favorite subject.
4. Science
4.1. I learned in science is all about the earth, how it formed, what minerals have the earth is, and about the galaxy and im very interested to know about it.
5. Soc. Sci
5.1. I learned in soc sci is all about the philosophy of man, and it is first time to me to study this subject . it is difficult in first but i enjoy it and interesting for a lot of history and theories of the philosophers.
6. P.E
6.1. I learned in P.E is about the different kind of exercise like push-ups, sit-ups, sit and reach, basketball pass and many others that i learned to apply in my daily habits and for my lifestyle.
7. Em-Tech
7.1. I learned in em-tech is all about the photoshop, wix, prezi and many other that it is very useful to me because i can use this in many ways like event, birthdays and other celebration.
8. PreCal
8.1. I learned in precal is all about conic sections like circle, hyperbola, parabola and ellipse which it is very important to me and this subject is my also favorite subject and it is likewise on math that it is usefull for me when i go to college.