STEM
by Trisha Genevieve Delfin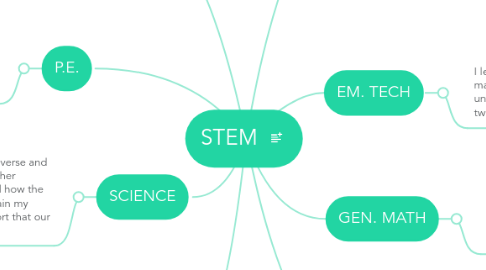 1. SCIENCE
1.1. I learn the different theory of the universe and solar system which leads me to another learning of what are the process and how the Earth become like this. And I also gain my self-confidence because of the Report that our teacher Assigned on us individually.
2. PRE.- CAL.
2.1. I learn how to equate conic sections, solving an equation using factoring,elimination, transposition, and substitution. I also learn how to visualize problem without relying on the writtings or illustration on the board.
3. GEN. MATH
3.1. I learn so much thing like HOW THE GET THE INVERSE OF A FUNCTION, INTEREST, AMOUNT TOTAL & ETC. the same time enjoying the class because of the good humor of our teacher.
4. EM. TECH
4.1. I learn to manipulate computer and also to manage sites such as PREZI & WIX. The most unforgettable is the 10 commandments who a twist in remembering computer rules.
5. ENGLISH
5.1. I learned the different communication styles and I started to understand the different cultures and gestures that can possibly offend foreign from different country.
6. P.E.
6.1. I learn the different execution and HOW HEALTHY LIFE IS WHEN YOU LEARN HOW TO BALANCE YOUR FOOD EVERYDAY AND HAVING AN EXERCISE(30min.)
7. FILIPINO
7.1. I learn the "Tungkulin ng wika" and how important "Wika" is. And also our " Wika" gives us freedom from the territorial foreigners
8. SOC. SCI.
8.1. I learn how to analyze and critique situation before having a decision. It also helped me to behave of what the society demans