PEOPLE OF THE ENLIGHTENMENT
by John Bigos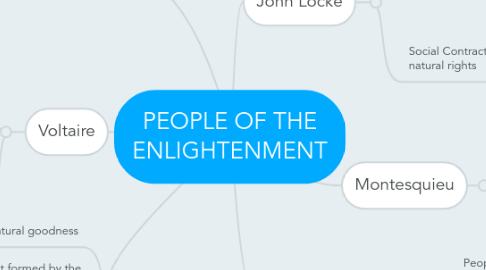 1. John Locke
1.1. Natural Law
1.1.1. Life
1.1.2. Liberty
1.1.3. Property
1.2. Social Contract: Obey ruler for protection of natural rights
2. Montesquieu
2.1. Separation of Powers
2.1.1. Legislative: make laws
2.1.2. Executive: enforce laws
2.1.3. Judicial: interpret laws
3. Voltaire
3.1. Freedoms
3.1.1. Speech
3.1.2. Religion
3.1.3. Tolerance and Reason
3.2. "I disagree with what you say but will defend to the death your right to say it."
4. Rousseau
4.1. Civilization corrupted natural goodness
4.2. Direct Democracy:  government formed by the will of the people.
4.3. All people equal
4.4. Helped to inspire the French Revolution
5. Beccaria
5.1. Criminal Justice
5.1.1. Abolish Torture
5.1.2. Speedy Trial
5.1.3. No capital Punishment
5.2. Government should seek the greatest good for the greatest number of people.
6. Thomas Hobbes
6.1. People are naturally wicked
6.2. Social Contract: people give up freedom for social order
6.3. Absolute Monarch