WHO NEED HELP
by Tan Thasakhon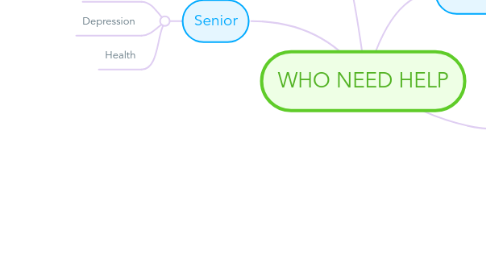 1. Why senior?
1.1. Senior are group of people that society have overlook and yet to find way to help them problem
1.2. What service should be provide to senior?
1.2.1. peer support, so they don't feel isolated, it also will make them be able to make friends
1.2.2. Technology that senior able to uses
1.2.2.1. Application that are able to download on phone about their health
1.2.2.1.1. Mental Health
1.2.2.1.2. Heart Monitoring
1.2.2.1.3. Exercise rountine
1.2.2.1.4. Game to train their memory skill
1.2.2.2. What do senior need in everyday life?
1.2.2.2.1. Walking Cane
1.2.2.2.2. People to look after them
1.2.2.3. Technology that will help them train their memory, and exercise at the same time.. as well as monitoring their health (rate rate) at the same time.
1.2.2.3.1. GP walking Cane
1.3. Senior alos have a high chance of developing mental health
1.3.1. It can leads to depression
1.3.1.1. Feeling of unwanted by relative and family
1.3.1.2. Feeling isolation
2. Drugs Addiction
2.1. Teenagers
2.2. Homeless
2.3. Uneducated
3. Senior
3.1. Alzheimer
3.2. Depression
3.3. Health
4. Disabilites
4.1. Blind people
4.2. down syndrome
5. Mental Health
5.1. Depression
5.2. Anxiety disorder