C.S (Clive Staples) Lewis' Biography
by Gabriella Pierre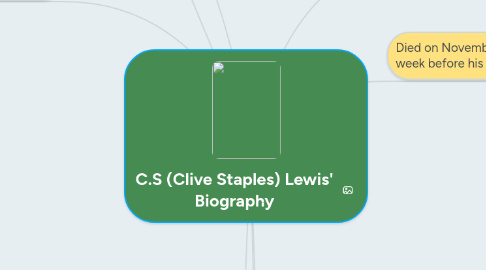 1. Born on November 29, 1898 in Belfast, Northern Ireland to Flora August Hamilton and Albert J. Lewis
1.1. Lewis' mother died when he was 10, and he went on to receive his pre-college education at boarding schools and from a tutor.
1.1.1. September 1908: Wynyard School, Wartford, Hertfordshire
1.1.2. September 1910: Campbell College until November, when he was withdrawn upon developing serious respiratory difficulties
1.1.3. 1911: Cherbourg House in Malvern, England. During this time he abandoned his childhood Christian faith.
1.1.4. September 1913: Malvern College
1.1.5. September 1914: Private study with W.T Kirkpatrick
2. 1917: From April 26 until September, Lewis was a student at University College, Oxford.
2.1. Three years after the outbreak of WWI in Britain, he enlisted in the British army and billeted for officers training.
2.2. 1918: On April 15 lewis was wounded, recuperated and returned to duty in October.
2.3. Discharged in December 1919.
3. June 1924: Lewis graduated from Oxford University with a focus on literature and classic philosophy.
3.1. First in Honor Moderations (Greek and Latin Literature) in 1920.
3.1.1. Lewis' essay "Optimism" won the Chancellor's English Essay Prize in May. (No copy of "Optimism" has been found as of this date.)
3.2. First in Greats (Philosophy and Ancient History) in 1922.
3.3. First in English in 1923.
3.4. Lewis served as philosophy tutor at University College from October 1924-May 1925
3.4.1. o
4. On May 20 1925, Lewis was elected a Fellow of Magdalen College, Oxford, where he served as tutor in English Language and Literature for 29 years.
4.1. 1929: Lewis became a theist: "In the Trinity Term of 1929 I gave in, and admitted that God was God, and knelt and prayed...."
4.1.1. 1931: Lewis became a Christian.
4.1.2. "When we [Warnie and C.S Lewis] set out [by motorcycle to the Whipsnade Zoo] I did not believe that Jesus Christ was the Son of God, and when we reached the zoo I did."
4.1.3. Joined the group known as The Inklings, an informal collective of writers and intellectuals including, Lewis's brother Warren and J.R.R Tolkien.
4.2. 1935: Lewis agreed to write the volume on 16th Century English Literature for the Oxford History of English Literature series. Published in 1954, it became a classic.
4.3. 1937: Lewis received the Gollancz Memorial Prize for Literature in recognition of The Allegory of Love (a study in medieval tradition).
4.4. 1939-1948: C.S Lewis wrote letters for pay, gave live radio talk about "Right and Wrong", "What Christians Believe", and "Christian Behavior."Lewis delivered the Riddel Memorial Lectures. Taken together, all of Lewis' radio broadcast talks, which won many converts, were published under the title Mere Christianity. "The Great Divorce (faith-based argument text)" published. Lewis awarded Doctor of Divinity in 1946.
4.5. 1950: The first book in the Chronicles of Narnia series, The Lion, the Witch, and the Wardrobe is released.
4.5.1. Sold over 100 million copies in 47 languages.
4.5.2. Prince Caspian (1951), The Voyage of the Dawn Treader (1952), etc...
4.5.3. Variety of Biblical themes are presented.
5. 1954-1956: Lewis joined the faculty of Cambridge University as a literature professor, and in 1956 he married an American English teacher, Joy Gresham.
5.1. Gresham died of cancer in 1960. Lewis grieved deeply for his wife and shared his thought in the book A Grief Observed, using a pseudonym.
5.1.1. Relationship with wife, Joy, depicted in Shadowlands, presented as a play and two films.
5.2. Lewis elected an Honorary Fellow of University College, Oxford.
5.3. Lewis awarded the honorary degree of Doctor of Literature by the University of Manchester.
6. C.S Lewis was a prolific author of fiction and nonfiction who wrote dozens of books. He is a renowned apologist writer, using logic and philosophy to support the tenets of his Christian faith.
6.1. His faith-based arguments as seen in texts like "The Great Divorce", and "Miracles" are held in high regard by many theologians, scholars, and general readers.
6.2. Continued with classic mythology and narratives with 'Till We Have Faces: A Myth Retold".
6.3. Autobiography: Surprised by Joy: The Shape of My Early Life (1955).
7. Died on November 22, 1963, one week before his 65th birthday.
7.1. Same day on which President Kennedy was assassinated.
7.2. Resigned his position at Cambridge during the summer and was then elected an Honorary Fellow of Magdalene College, Cambridge.
8. C.S Lewis Quotes
8.1. "Friendship is born at the moment when one person says to another: What! You too? I thought I was the only one."
8.2. "A man can no more diminish God's glory by refusing to worship Him than a lunatic can put out the sun by scribbling the word 'darkness' on the walls of his cell."
8.3. "You are never too old to set another goal or to dream a new dream."