Chapter 9: Human Resources and Diversity
by Ricardo Acosta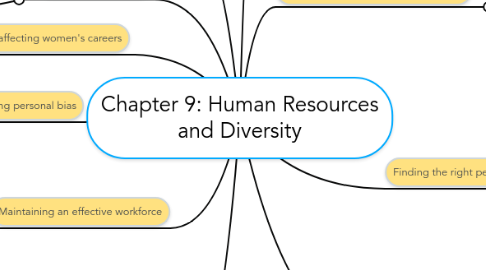 1. Managing Talent
1.1. Training and Development
1.1.1. On-the-job training
1.1.2. Corporate University
1.1.3. Mentoring and Coaching
1.2. Performance Appraisal
1.2.1. 360-degree feedback
1.2.2. Evaluation Errors
1.2.2.1. Stereotyping
1.2.2.2. Halo effect
1.2.2.3. BARS
2. Maintaining an effective workforce
2.1. Compensation
2.2. Benefits
2.3. Rightsizing the organization termination
3. Factors shaping personal bias
3.1. Prejudice, Discrimination and Stereotypes
3.2. Ethnocentrism
4. Factors affecting women's careers
4.1. Glass Ceiling
4.1.1. Opt-Out Trend
5. Cultural Competence
5.1. Ability to interact effectively with people of different cultures
6. New diversity initiatives
6.1. Multicultural Teams
6.2. Employee network groups
7. The strategic role of HRM is to drive organizational performance
7.1. Strategic Approach
7.2. Building human capital
7.2.1. Economic value of the combined knowledge, experience, skills and capabilities of employees.
8. Impact of Federal Legislation on HRM
8.1. HR managers have to follow federal laws which prohibit discrimination, establish safety standards or require organizations to provide certain benefits.
9. Finding the right people
9.1. Human Resource Planning
9.1.1. Matching model
9.2. Recruiting
9.2.1. Job analysis
9.2.2. Job description
9.2.3. Job specification
9.2.4. Realistic job previews
9.3. Selecting
9.3.1. Application form
9.3.2. Structured interview
9.3.3. Employment tests
10. Managing Diversity
10.1. All the ways in which people differs.