LEARNING THEORIES
by Júlia Molas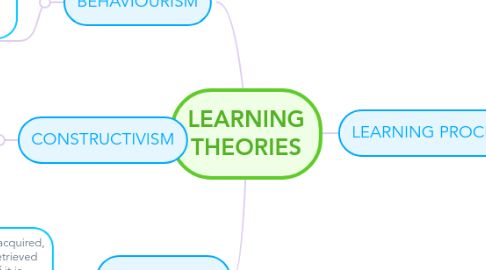 1. BEHAVIOURISM
1.1. Behaviour can change as a result of extrinsic motivators.
1.1.1. Thorndike
1.1.1.1. Trial and-error approach
1.1.1.2. Mental connections are made by positive responses to particular stimuli
1.1.2. B. F. Skinner
1.1.2.1. Experiments that proved positive reinforcement for "correct" responses
1.1.2.2. Learning: production of desired behaviours
2. CONSTRUCTIVISM
2.1. People are active and engage, grapple and seek to make sense.
2.1.1. Vygotsky
2.1.1.1. Learning occurs in a cultural context and involves social interactions
2.1.1.2. ZDP: cooperative learning and scaffolding
3. LEARNING PROCESS
3.1. The physical structure of the brain is changed.
3.2. Effort is affected by reinforcements from the environment and the nature of feedback.
3.3. Connections between what is known and new information and drawn.
3.4. Cultural and social contexts influence the understanding and construction of knowledge.
3.5. There are multiple intelligences and processing is also different among people.
3.6. Metacognitive skills and emotions shape the learning process.
3.7. TEACHER'S ROLE:
3.7.1. Provide with active, hands-on learning and authentic tasks and audiences.
3.7.2. Organize information and link new information to prior knowledge to create connections.
3.7.3. Work in groups and learn together, creating roles.
4. COGNITIVISM
4.1. Information is acquired, retained and retrieved for future use if it is learner-constructed, relevant and built upon prior knowledge.
4.1.1. Piaget
4.1.1.1. Knowledge is created by experiences
4.1.1.2. 4 stages
4.1.1.2.1. Sensorimotor (0-2 years)
4.1.1.2.2. Preoperational (2-7 years)
4.1.1.2.3. Concrete operations (7-14 years)
4.1.1.2.4. Formal operations (11/15-adulthood)