Wordpress
by Arcelie Granada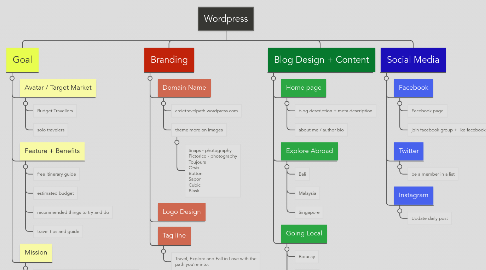 1. Social Media
1.1. Facebook
1.1.1. Facebook page
1.1.2. join facebook group + like facebook page
1.2. Twitter
1.2.1. be a member in a list
1.3. Instagram
1.3.1. Update daily post
2. Blog Design + Content
2.1. Home page
2.1.1. blog description + meta description
2.1.2. about me / author bio
2.2. Explore Abroad
2.2.1. Bali
2.2.2. Malaysia
2.2.3. Singapore
2.3. Going Local
2.3.1. Boracay
2.3.2. Bacolod
2.3.3. Camiguin
2.3.4. Cebu
2.3.5. Leyte
2.3.6. Dumaguete
2.3.7. Zamboanga
2.3.8. Basilan
3. Goal
3.1. Avatar / Target Market
3.1.1. Budget Travellers
3.1.2. solo travelers
3.2. Feature + Benefits
3.2.1. free itinerary guide
3.2.2. estimated budget
3.2.3. recommended things to try and do
3.2.4. travel tips and guide
3.3. Mission
3.3.1. help other travelers to make their travel journey more easy,happy and memorable as mine.
4. Branding
4.1. Domain Name
4.1.1. arcietravelpath.wordpress.com
4.1.2. theme more on images
4.1.2.1. Snaps - photography Pictorico - photography Toujours Orvis Button Sapor Cubic Blask
4.2. Logo Design
4.3. Tag line
4.3.1. Travel, Explore and Fall in Love with the path you're into.