FUTURE UNDERSTANDINGS: THE PROFESSIONAL
by Nane Smirnoff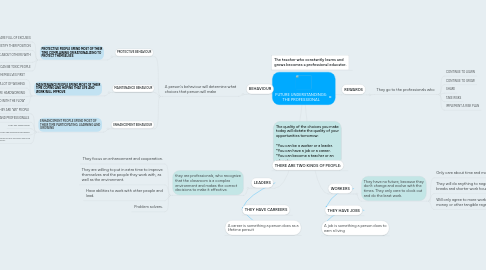 1. REWARDS
1.1. They go to the professionals who
1.1.1. CONTINUE TO LEARN
1.1.2. CONTINUE TO GROW
1.1.3. SHARE
1.1.4. TAKE RISKS
1.1.5. IMPLEMENT A RISK PLAN
2. THEY HAVE CARREERS
3. A career is something a person does as a lifetime persuit
4. LEADERS
4.1. they are professionals, who recognize that the classroom is a complex environment and makes the correct decisions to make it effective.
4.1.1. They focus on enhancement and cooperation.
4.1.2. They are willing to put in extra time to improve themselves and the people they work with, as well as the environment.
4.1.3. Have abilities to work with other people and lead.
4.1.4. Problem solvers.
5. WORKERS
5.1. They have no future, because they don't change and evolve with the times. They only care to clock out and do the least work.
5.1.1. Only care about time and money.
5.1.2. They will do anything to negotiate longer breaks and shorter work hours.
5.1.3. Will only agree to more work hours for more money or other tangible regards.
6. The quality of the choices you make today will dictate the quality of your opportunities tomorrow: *You can be a worker or a leader. *You can have a job or a career. *You can become a teacher or an educator.
7. The teacher who constantly learns and grows becomes a professional educator.
8. THERE ARE TWO KINDS OF PEOPLE:
9. THEY HAVE JOBS
10. A job is something a person does to earn a living
11. BEHAVIOUR
11.1. A person's behaviour will determine what choices that person will make
11.1.1. PROTECTIVE BEHAVIOUR
11.1.1.1. PROTECTIVE PEOPLE SPEND MOST OF THEIR TIME COMPLAINING OR RATIONALIZING TO PROTECT THEMSELVES
11.1.1.1.1. THEY ARE FULL OF EXCUSES
11.1.1.1.2. THEY LIE TO JUSTIFY THEIR POSITION
11.1.1.1.3. THEY NEVER TALK ABOUT OTHERS WITH DIGNITY
11.1.1.1.4. THEY CAN BE TOXIC PEOPLE
11.1.2. MAINTENANCE BEHAVIOUR
11.1.2.1. MAINTENANCE PEOPLE SPEND MOST OF THEIR TIME COPING AND HOPING THAT LIFE AND WORK WILL IMPROVE
11.1.2.1.1. THEY PUT THEMSELVES FIRST
11.1.2.1.2. THEY DO A LOT OF WISHING
11.1.2.1.3. THEY ARE HARDWORKING
11.1.2.1.4. THEY JUST "GO WITH THE FLOW"
11.1.3. ENHANCEMENT BEHAVIOUR
11.1.3.1. ENHANCEMENT PEOPLE SPEND MOST OF THEIR TIME PARTICIPATING, LEARNING AND GROWING
11.1.3.1.1. THEY ARE "WE" PEOPLE
11.1.3.1.2. THEY ARE LEADERS AND PROFESSIONALS
11.1.3.1.3. THEY GET WORK DONE
11.1.3.1.4. THEY ARE NOURISHING PEOPLE
11.1.3.1.5. THEY ARE ACTIVE IN SCHOOL AND THE COMMUNITY