1º CAPITULO
by Kleber Garcia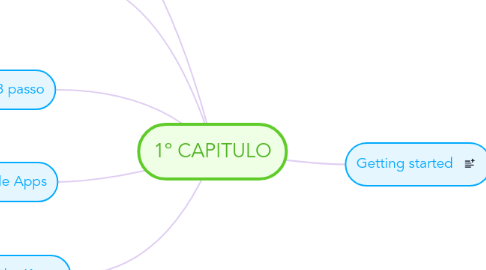 1. Stay in the Know
1.1. Follow our blog to never miss an important update, downtime warning or tutorial!
2. Mobile Apps
2.1. Download our native mobile apps for iOS and Android to mind map on the go!
3. 2 passo
3.1. Isaac fica semana fora Sara encontra com Sigmund e percebe algo de errado, pede para ele ficar 1 dia com Gustavo, não sabem oque fazer, sara quer mudar isso, Sigmund diz que é tarde conta que esta morrendo
4. 1 passo
4.1. Laboratorio Rotina cansada msg isaac apresentação julio encontro dos fãs dos mamonas Sara nunca deixa isaac falar
5. 3 passo
5.1. Frustração nos teste Sara fica esgotada, descontrolada Sara decide fazer uma janta, resgatar emoções, criar laços, se eu tivesse um único dia esse dia seria com total esperança, anita entregou tudo até o ultimo minuto
6. Getting started
6.1. Add a sibling idea by hitting ENTER
6.2. This is a sibling idea
6.3. Add a child idea by hitting TAB
6.3.1. This is a child idea
6.4. Choose icons and images to decorate your mind map
6.5. Connect topics with the arrow tool in the upper left corner of your screen
6.6. Add links, tasks or files to your topics, using the widgets in the sidebar
6.7. Change your map layout by opening the layout options in the upper left corner of your screen
6.8. Advanced
6.8.1. Open the Theme menu from the bottom of your map editor to change your map theme
6.8.2. Create a presentation of your mind map by clicking the presentation icon in the bottom left corner of your screen
6.8.2.1. Simply hold down COMMAND i.e. CTRL and Click & Drag to create a slide for one or multiple topics
6.8.2.2. Set transitions for your slides
6.8.2.3. Click "Start Slideshow" to view your presentation
6.8.3. Open the Sharing Settings from the bottom of your map editor to share the map with a friend or publish it to the web
6.8.3.1. You can share your map with anyone via email
6.8.3.2. You can publish your map and enable anyone with an internet access to find it
6.8.3.3. You can embed your map on a blog or website
7. By the way, this is a floating topic. To create a floating topic, simply drag it away from the map center.