The Innovator's ADN.
by Michelle Cp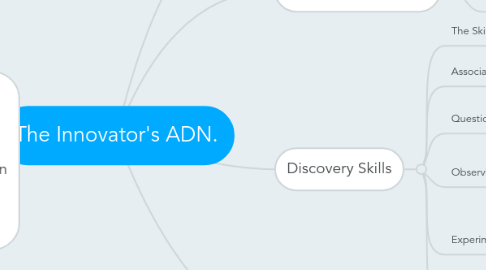 1. Innovative entrepreneurs
1.1. Entrepeneurs build a new empire with different skills instead of innovate work already made.
2. Creative Intelligence
2.1. Entrepreneur uses both sides of the brain in order to discover new ideas with the 5 skills.
3. Discovery Skills
3.1. The Skills of an entrepeneur are:
3.2. Associating
3.2.1. An Entrepeneur always remember things by the Experience and Knowledge they have.
3.3. Questioning
3.3.1. They ask questions that challenge their wisdom
3.3.1.1. They are inspired for a new venture
3.3.1.1.1. Represent the Devil´s Advocate with the questions of "Why","Why Not" and "What If"
3.4. Observing
3.4.1. It's fundamental to analyze small and little details that customers do, same as analyze their behavior and recognize their insights.
3.5. Experimenting
3.5.1. Entrepreneurs create prototypes and launch their pilots while having a product idea, before that, they have an intellectual exploration and engage in new surroundings .
3.5.1.1. Be International in order to learn local behavior and different lifestyles.
3.6. Networking
3.6.1. Visit other countries and meet people form others walks of life.
3.6.1.1. Attend to conferences.
3.6.1.1.1. . Do not make judgments and practice all the time in order to become a habit.
4. You should take risks and do not be afraid of the change.
5. Michelle Cicourel Ponce A01227870 ITESM, Campus Guadalajara Celia A. Rodríguez Barba Administración e Innovación en modelos de negocios 8:30 Octubre 30, 2016