I don't want Mei Mei anymore! (Written by Lynn Lee. Illustrated by Phua San San)
by Aish Ajith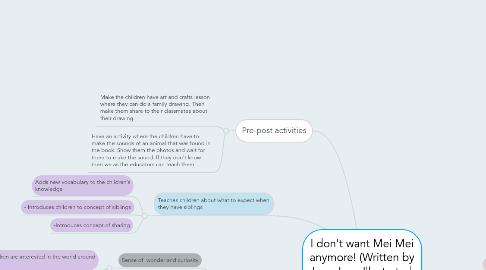 1. Teaches children about what to expect when they have siblings
1.1. Adds new vocabulary to the children's knowledge
1.2. - Introduces children to concept of siblings
1.3. -Introduces concept of sharing
2. Areas of Learning
2.1. Social Development
2.2. Language and Literacy
2.2.1. There are sound  words like  Whooshed, swooshed and Thump.
2.2.2. Story has a simple storyline. Children can retell they story however they understood it
2.3. Discovery of the World
2.3.1. Introduction to animals like porcupine, rhino and ostrich
2.3.1.1. Adjectives of animals are described
3. Learning Dispositions
3.1. Sense of  wonder and curiosity
3.1.1. Children are interested in the world around them
3.2. Reflectiveness
3.2.1. Children get to reflect on their experiences
3.2.1.1. Sharing with other children
3.2.1.2. Children's experience with siblings
3.3. Appreciation
3.3.1. They will learn to appreciate their siblings
4. Pre-post activities
4.1. Make the children have art and crafts lesson where they can do a family drawing. Then make them share to their classmates about their drawing.
4.2. Have an activity where the children have to make the sounds of an animal that was found in the book. Show them the photos and wait for them to make the sound. If they don't know then we as the educators can teach them.