The Highs Of Exercise
by noor faridah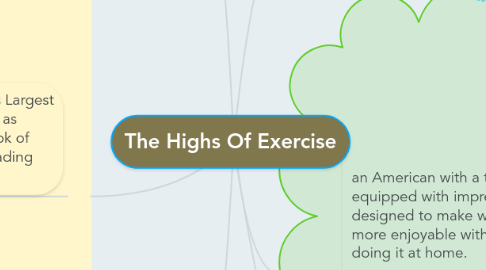 1. exercising helps to lower blood pressure, control weight, create a healthy balance of blood fats and improve the body's ability to handle insulin
2. According to the National Stroke association of Malaysia, stroke is the third largest cause of death in the country.
3. the risk of getting stroke can be reduced by adopting a healthy lifestyle
3.1. limiting alcohol consumption
3.2. eating a healthy diet
3.3. guitting smoking
3.4. being more physically active
4. aim to do moderate intensity exercise for 30 minutes for at least five days a week.
4.1. brisk walking are suitable for people of all ages and fitness levels.
4.2. it also can be done at any time and the console comes with a six-inch backlit display with music port and autoBreeze workout fan.
5. an American with a treadmill is equipped with impressive features designed to make walking or jogging more enjoyable with convenience of doing it at home.
5.1. this smooth and powerful 2.75 CHP DurX Commercial Plus Motor to 20-inch by 60-inch tread belt.
5.1.1. total calories burned and workout progress can be tracked with the six-inch large backlit display.
5.2. other performance features include:
5.2.1. a wide selection of workout apps
5.2.1.1. burn calories through incline,speed or insensity built-in workouts designed by a certified personal trainer
5.2.2. oneTouch speed and incline controls
5.2.2.1. increase workout speed up to 20km/h and incline up to 12% with the touch of button to increase intensity and calorie burn. stay focused on performance instead of scrolling through settings
5.2.3. FlexSelect cushioning
5.2.3.1. get the best of both worlds from an adjustable treadmill cushioning. turn it back for a surface that feels like a road.
5.2.4. SpaceSaver design with EasyLift assist
5.2.4.1. fold the treadmill up and it is out of the wat for convenient cleaning and storage. A hydraulic dampening spring does the heavy lifting so the treadmill can be easily folded to save floor space
6. Fitness Concept is Malaysia's Largest fitness Specialist Chain Store as certified by The Malaysia Book of Records with 45 outlets in leading shopping mall nationwide
6.1. it carries a wide range of fitness equipment
6.1.1. treadmills
6.1.2. exercise bikes
6.1.3. gym stations
6.1.4. fitness accessories from renowned brands
6.1.4.1. Cybex
6.1.4.2. NordicTrack
6.1.4.3. Life Fitness
6.1.4.4. Body Solid
6.2. is also offering instant rebates on
6.2.1. treadmills
6.2.2. cross trainers
6.2.3. exercise bikes
6.2.4. gym stations
6.2.5. fitness accessories among other great offers
6.3. enjoy up to seven years' warranty on the NordicTrack T13 with stabiliser during this promotion. Terms and conditions apply.
6.3.1. for more information, visit Fitness Concep
6.4. for more information, visit Fitness Concepts stores or roadshows, call 03-77267787 (IPC Shopping Center store) or 0322823200 (Mid Valley Megamall center) , email equiries @fitnessconcept.com.my or log on to www.fitnessconcept.com.my to shop online.