WHERE DO YOU LIVE
by nur shafiqa shamira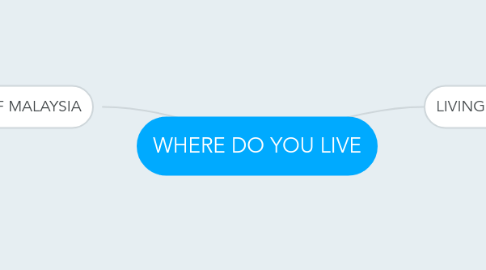 1. LIVING IN MALAYSIA
1.1. MULTHI ETHNIC
1.2. MALAYSIA POPULATION
1.2.1. 50.4 % MALAY
1.2.2. 24.6 % CHINESE
1.2.3. 7.1 % INDIAN
1.3. LANGUAGES
1.3.1. OVER 130 LANGUAGES
1.3.2. ENGLISH
1.3.3. MALAY
1.3.4. INDIAN
1.3.5. CHINESE
1.4. RELIGION
1.4.1. MUSLIM IS OFFICIAL RELIGION
1.4.2. BUDDHISTS
1.4.3. CHRISTIANS
1.4.4. HINDUS
1.4.5. VARIOUS CHINESE RELIGIONS
1.5. POLITICS PARTY BASED
1.5.1. RACE
1.5.2. ETHINITICITY
1.5.3. RELIGION
2. THE PEOPLE OF MALAYSIA
2.1. ORANG ASLI
2.1.1. MALAYS TERM WITH NAMES " ORIGINALS PEOPLE"
2.1.2. WITH GOVERNMENT AID MANY PEOPLE LEFT THE FOREST
2.1.3. SOUGHT THE JOBS AND EDUCATIONS IN THE CITY
2.2. MALAYS
2.2.1. THE MAJORITY RACE IN THE MALAYSIA
2.2.2. NEW ECONOMIC POLICY (NEP) ATTEMPT TO ECONOMIC BALANCE BETWEN MALAYS AND CHINESE
2.2.3. MANY CONFLICTING ON THE ORIGINS OF MALAYS
2.2.4. SOME SAID THAT CENTURIES OF CHINESE AND INDIANS TRADING IN THE MID WAY POINT OF THE MALAY ARCHIPELAGO HAD BLENDED INTO THE MALAY
2.2.5. MALAYS ACTUALLY COME FROM ARCHIOELAGO
2.3. INDIANS
2.3.1. PENANG HAD BEEN TRADING POST EVEN BEFORE THE BRITISH COLONISED IT
2.3.2. THE LOCAL MALAY POPULATION HAVE MIXED ARAB OR INDIAN BLOOD
2.3.3. MALAY MOTHERS MARRIED TO AN INDIAN MUSLIM TRADER ARE CALLED JAWI PERANAKANS
2.3.4. THEY ALSO CALLED THEMSELVE "MAMAK"
2.4. CHINESE
2.4.1. SIR FRANCAIS LIGHT-CHINESE THE MOST VALUABLE AND THEY COULD RAISE REVENUE
2.4.2. MANY CHINESE EMIGRATE TO MALAYSIA
2.4.3. COME TO TIN MINES AND ROAD AND RAILWAYS CONSTRUCTIONS
2.5. PERANAKANS
2.5.1. INTER CULTURAL RELATIONSHIPS AND MARRIAGES BETWEEN THIS THESE TRADERS AND LOCAL MALAY WOMEN
2.5.2. THE MENS REFFERS TO "BABA"
2.5.3. THE LADIES REFERS TO "NYONYA"