CCO On Podio  Hubs and Club
by Laureen Jandroep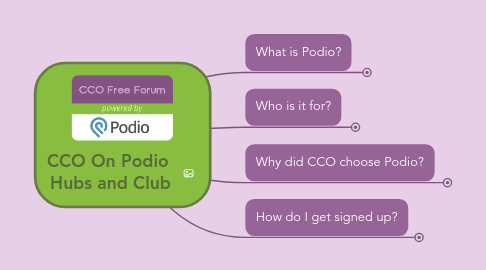 1. What is Podio?
1.1. Podio is a group discussion and  colaboration tool
1.1.1. It is very similar to Facebook in that you join the main platform then can join private groups (Podio calls them workspaces - CCO calls them Hubs)
2. Who is it for?
2.1. Anyone in the medical coding, billing and practice management community.
3. Why did CCO choose Podio?
3.1. Easy collaboaration
3.2. Organized threaded conversations
3.3. Ability to @mention individuals
3.4. Incredible search capability
3.5. Rate and comment on all items
3.6. Jump from club to hub
3.6.1. Jump from one private group to another in two clicks
3.7. Share files
3.8. Desktop notifications
3.9. Email notices with granular control
3.10. Mobile ready
4. How do I get signed up?
4.1. Step 1 - Signup for Podio
4.1.1. go to podio.com/signup
4.1.1.1. signup with other authenticating platforms
4.1.1.1.1. facebook
4.1.1.1.2. google
4.1.1.1.3. live
4.1.1.1.4. sharefile
4.1.1.2. or provide info separately
4.1.1.2.1. email
4.1.1.2.2. name
4.1.1.2.3. password
4.1.2. verify email address
4.1.2.1. you will receive an email with the subject "Please verify your email address to activate your Podio account" - click the button to confirm
4.1.3. receive confirmation email
4.1.3.1. you will receive an email with the subject "Podio account information" which will contain your password.  Save this for future use. Congratulations you're all signed up with Podio!
4.2. Step 2 - Update Podio Profile
4.2.1. Podio is just like Facebook in that anything you choose to share on your profile is public.  We reccomend removing your email address for privacy and changing your name to a last initial or a screen name.
4.3. Step 3 - Request Invite to CCO private groups
4.3.1. Free Forum - CCO Insiders Hub
4.3.1.1. anyone can join - no CCO purchase required
4.3.1.2. please note the Terms of Service (TOS) you are agreeing to
4.3.2. CCO Club
4.3.2.1. for paid club members
4.3.3. CCO Find-A-Code Hub
4.3.3.1. part of CCO Club purchase or purchased separately
4.3.4. CCO VIP Advocates
4.3.4.1. for those that have signed up for the CCO VIP Advocate program.  VIPs promote CCO and get rewarded for it. The group area is where we discuss promotions (challenges) and rewards.
4.3.5. Student Support Hubs
4.3.5.1. Courses
4.3.5.1.1. PBC Course
4.3.5.1.2. FBC Course
4.3.5.1.3. RAC Course
4.3.5.1.4. PBMA Course
4.3.5.1.5. IBC Course
4.3.5.1.6. ICD-10-CM Course
4.3.5.1.7. ICD-10-PCS Course
4.3.5.1.8. MCP Course
4.3.5.1.9. PBB Course
4.3.5.1.10. PPM Course
4.3.5.1.11. MTA Course
4.3.5.1.12. PathoPhys Course
4.3.5.2. Blitzes
4.3.5.2.1. CPC Blitz
4.3.5.2.2. COC Blitz
4.3.5.2.3. CIC Blitz
4.3.5.2.4. CRC Blitz
4.3.5.2.5. CPMA Blitz
4.3.5.2.6. ICD-10-CM Blitz
4.3.5.2.7. ICD-10-PCS Blitz
4.3.5.3. Practice Exams
4.3.5.3.1. (paid versions - free ones are supported in free forum above)