Glenn Chambers
by Glenn Chambers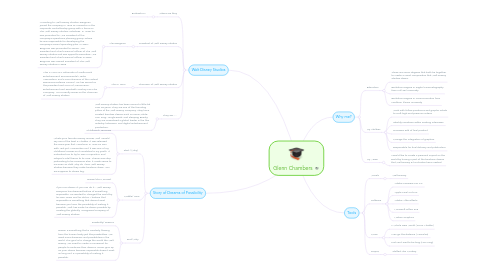 1. Walt Disney Studios
1.1. Where are they
1.1.1. Burbank,CA
1.2. President of Walt Disney Studios
1.2.1. Alan Bergman
1.2.1.1. According to Walt Disney Studios, Bergman joined the company in 1996 as a Director in the corporate controllership group with a focus on The Walt Disney Studios' initiatives. In 1998, he was promoted to Vice President of the company's operations planning group, where he was responsible for developing the company's annual operating plan. In 2001, Bergman was promoted to Senior Vice President and Chief Financial Officer of The Walt Disney Studios and was upped to Executive Vice President and Chief Financial Officer in 2002. Bergman was named President of The Walt Disney Studios in 2005
1.3. Chairman of Walt Disney Studios
1.3.1. Alan F. Horn
1.3.1.1. Alan F. Horn is a cofounder of Castle Rock Entertainment, Environmental Media Association, and a vice-chairman of the Natural Resources Defense Council. He has served as the president and COO of Warner Bros. Entertainment and Twentieth Century Fox Film Company. He currently serves as the chairman of Walt Disney Studios.
1.4. They are.....
1.4.1. Walt Disney Studios has been around a little bit over 90 years. They are one of the founding pillars of the Walt Disney Company. They have created timeless classics such as Snow White, Lion King, Jungle Book, and Sleeping Beauty. They are considered a global leader in the film industry, television, and digital entertainment production.
2. Tools
2.1. Visuals
2.1.1. Walt Disney
2.2. Software
2.2.1. Adobe Premiere Pro CC
2.2.2. Apple Final Cut Pro
2.2.3. Adobe After Effects
2.2.4. Microsoft Office 365
2.2.5. Motion Graphics
2.3. Music
2.3.1. A Whole New World ( From Aladdin)
2.3.2. I can go the distance ( Hercules)
2.3.3. Just can't wait to be king (Lion King)
2.4. Props?
2.4.1. Stuffed Abu Monkey
3. Story of Dreams of Possibility
3.1. Start / (Why)
3.1.1. Childhood Memories
3.1.2. What's your favorite Disney movie? Well I would say one of the best is Aladdin. It was released the same year that I was born in 1992 on Nov 25th. But yet, I remember as if it was one of my childhood movies as it correlates to my youth. It motivated me to try to own a Capuchin, and relayed a vital theme to its core. Theme was stop pretending to be someone else. It made sense to me even as child.Why do I love Walt Disney Studios because they make timeless classic. You are suppose to dream big.
3.2. Middle/ How
3.2.1. Dream/Star Moment
3.2.2. If you can dream it, you can do it - Walt Disney. Everyone has dreamed before of something impossible. He wanted to changed the world by his own vision and he did so. I believe that impossible is something that doesn't exist because you have the possibility of making it possible. Walt has made his dream possible by creating the globally  recognized company of Walt Disney Studios.
3.3. End/ Why
3.3.1. Possibility/ Dreams
3.3.2. Dream is something that is creativity flowing from the human body just like possibilities. We need more dreamers and possibilities in the world. The goal is to change the world like Walt Disney. We need to create a movement for people to embrace their dreams. Never give up on your dream because impossible doesn't exist as long as it is a possibility of making it possible.
4. Why me?
4.1. Education
4.1.1. Those are some degrees that both tie together to create a visual composition that Walt Disney Studios desire.
4.1.2. Bachelors Degree in Digital Cinematography from Full Sail University
4.1.3. Bachelors Degree in Communication from Northern Illinois University
4.2. My Abilities
4.2.1. Work with fellow producers and graphic artists to craft high-end premium videos
4.2.2. Identify narratives within existing interviews.
4.2.3. Oversees edit of final product
4.2.4. Manage the integration of graphics.
4.2.5. Responsible for final delivery and publication.
4.3. My Views
4.3.1. I would like to create a personal impact on the world by having a part of the timeless classics that Walt Disney & his studios have created.