Live with Laureen #010
by Laureen Jandroep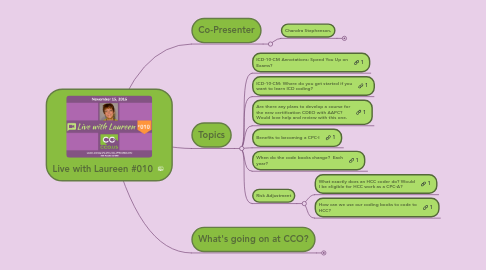 1. What's going on at CCO?
1.1. CCO Club Launched!
1.1.1. Join the new CCO Club and get in at lowest rates ever! http://cco.us/club
1.2. Don't forget to join Insider Group email list and join the new CCO Free Forum
1.2.1. Get on CCO Insider list to be the first informed http://cco.us/insider
1.3. Facebook Live notification list has text messaging now
1.3.1. Get a text message or email whenever we are on Facebook for a live event http://www.cco.us/fblive/
1.4. New products & courses Coming Soon!
1.4.1. Courses
1.4.1.1. CPB v2.0 Course
1.4.1.2. CIC Course
1.4.2. Review Blitzes
1.4.2.1. CPMA Blitz
1.4.3. Practice Exams
1.4.3.1. CRC - Risk Adjustment
1.4.3.2. CPB - Billing
2. Topics
2.1. ICD-10-CM Annotations: Speed You Up on Exams?
2.2. ICD-10-CM: Where do you get started if you want to learn ICD coding?
2.3. Are there any plans to develop a course for the new certification CDEO with AAPC? Would love help and review with this one.
2.4. Benefits to becoming a CPC-I
2.5. When do the code books change?  Each year?
2.6. Risk Adjustment
2.6.1. What exactly does an HCC coder do? Would I be eligible for HCC work as a CPC-A?
2.6.2. How can we use our coding books to code to HCC?
3. Co-Presenter
3.1. Chandra Stephenson,
3.1.1. CPC, CIC, COC, CPB, CPCO, CPMA, CPPM, CRC, CPC-I, CCS, CANPC, CCC, CEMC, CFPC, CGSC, CIMC, COBGC, COSC