MOTIVATING UNDER PERFORMING STUDENTS
by Jeffrey Adair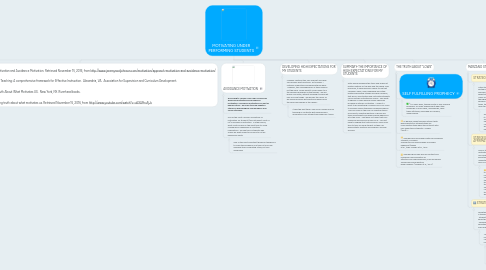 1. THE TRUTH ABOUT "LOWS"
1.1. SELF FULFILLING PROPHECY
1.1.1. In many ways, teacher foster a "self-fulfilling prophecy" of under achievement when they knowingly or more likely, unknowingly, have these attitudes, described by Marzano, shared below.
1.2. "In general, when teachers interact with high-expectancy students they are more positive than when they interact with low-expectancy students." Cooper (1979)—
1.3. "Teachers are less friendly with low-achieving students, including smiling less and using friendly nonverbal behaviors"(Babad et al., 1982; Chaikin et al., 1974;
1.4. "Teachers give lows less eye contact and nonverbal communication of attention and responsiveness, such as leaning forward and using positive head nodding." (Chaiken et al., 1974).
2. MARZANO STRATEGIES
2.1. STRATEGY #1-CLEAR EXPECATATIONS
2.1.1. Often times, students will moderate or even limited focus or ambition in the class are that way because there are not very clear expectations.  This is particularly the case with "lows" as they do not feel that they can achieve the highest expectations so they do not perceive a reachable middle ground.  Often times, the choice of not trying at all seems the more sensible option.
2.1.1.1. EXAMPLE: chunking is a good strategy to use as it allows students to visualize success for smaller aspects of an assignment.  Even if your expectation is for the larger assignment to be completed by all, chunking allows for students who may be motivated by "avoidance" to get beyond their fears.
2.2. STARGEGY #2-VERBAL AND NON-VERBAL AFFIRMATIONS
2.2.1. One of the most important tools I use to motivate "lows" or to keep students focused is non-verbal cues.  Marzano talks about the importance of setting up cues that the students understand that does not have to come in the form of a verbal directive.
2.2.1.1. EXAMPLE: One of the things that I always do is to set up  cue with a student that is just between us.  It is usually a directive to refocus or get back on task.  Often it comes in the form of a simple tap on the shoulder or knock on the desk.  I find that this works efficiently and, most importantly, the pre-negotiated "deal" gives the student a sense of trust in you as you have agreed to correct their behavior while not embarrassing them or "calling them  out."  This goes a long way with students
2.3. STRATEGY#3-PERSISTENCE
2.3.1. Persistence is one of the most difficult tasks for a teacher but really one of the most essential.  Students have had a million teachers and they know that we are required to set rules.  However, they know that the ones the keep persistent are the ones that truly care about the rules and really, care about them.
2.3.1.1. You often run the risk of being the "broken record" as you persist in your approach to classroom management but it is really important.
2.3.1.1.1. EXAMPLE: One example is a saying I give-"Three Before Me."  When said, that reminds the students that a question they have asked has already been answered and to ask a friend.  This is not being dismissive but rather encourages the solving of ones own problems.
3. ANOTHER SET OF EXAMPLESDRIVE-DANIEL PINK
3.1. AUTONOMY
3.1.1. The ability to take a task and apply your own thinking and problem solving skills to the solution.
3.1.1.1. EXAMPLE: the roller coaster challenge is a great example of that.  I especially liked how the students were not given all of the materials immediately to do as it promotes "systems thinking" which is the key to stem.
3.2. MASTERY
3.2.1. I utilize standards based grading techniques which is not always possible within an MYP curriculum and assessment criterion.  Standards based allows students the ability to wrestle with a skill until that skill is perfected.  Once that is the case, they will have a solid foundation.
3.2.1.1. EXAMPLE: you cannot and should not write a full essay until you understand the PEE model of point-example-evidence.  This becomes the basis of the larger model and a mastery of this concept puts the student on a path to success armed with confidence and ambition
3.3. PURPOSE
3.4. "DRIVE" BY DANIEL PINK
4. INTRINSIC REWARD
4.1. ITS CLEAR THAT STUDENTS MAY BE MOTIVATED IN THE SHORT TERM BY FEAR OR AVOIDANCE, BUT THAT ULTIMATELY DOES NOT LEAD TO A "SUCCESSFUL" STUDENT-RATHER A PROGRAMMED STUDENT
5. SUMMARY-THE IMPORTANCE OF HIGH EXPECTATIONS FOR MY STUDENTS
5.1. After having reviewed this topic and looked at related material on the web and the Teach Now resources, it becomes ever clearer to me that Marzano's ideas, Pink's pedagogy and other related psychology studies including Johnson, that BOTH unmotivated and motivated students can be further motivated by choice.  The ability to agency in ones learning clearly shows an increase in intrinsic motivation.  I make it a point to do everything I possibly can in my class to increase choice therefore increasing agency.  This can come in the form of selecting topics on projects, selecting partners in group and team assessments and even picking where you sit in the room.  That does not mean that your classroom will become a free for all.  You just need to engage that "autonomous" sense from time to time for each student so they can demonstrate "mastery and purpose" and feel success
6. DEVELOPING HIGH EXPECTATIONS FOR MY STUDENTS
6.1. Marzano captures two very relevant and dare I say obvious "best practices" for teachers.  I certainly understand and agree with his ideas.  However, the comprehension of these ideas is not the issue.  Really what it comes down to is the personal discipline of the teacher.  We are human and often, without knowing it simply get lazy on some things.  We dismiss the "lows" as we subconsciously get emotional reward from the smiles and hands of the "highs."
6.1.1. I think the best thing I can do for myself and my teaching is constantly get feedback and observation from students and peers as I teach.
7. AVOIDANCE MOTIVATION
7.1. According to Jeremy Noel John, in his book Approach motivation and Avoidance motivation-"Avoidance motivation is a part of human nature - we learn to avoid negative stimuli on psychological, physiological, and social rationales.
7.2. One of the most common formations of motivation for students (and lets admit-most of us) is avoidance motivation.  In other words, what must be done in the short term to avoid consequence regardless of long term implications.  We see this in students who simply do what needs to be done to not be hassled by adults.
7.2.1. One of the most important things for teachers is to make the avoidance of a task not only less desirable than completing a task, but less achievable.
8. REFERENCES                                                                                                                                                                                                                                                                                                                                                     Johnson, J. N. (2014, May 7). Approach Motivation and Avoidance Motivation. Retrieved November 15, 2016, from http://www.jeremynoeljohnson.com/motivation/approach-motivation-and-avoidance-motivation/ Marzano RJ (2007).  The Art and Science of Teaching: A comprehensive framework for Effective Instruction.  Alexandria, VA.  Association for Supervision and Curriculum Development. Daniel Pink (2011).  DRIVE: The Surprising Truth About What Motivates US.  New York, NY. Riverhead books. T. (2010). RSA ANIMATE: Drive: The surprising truth about what motivates us. Retrieved November 15, 2016, from http://www.youtube.com/watch?v=u6XAPnuFjJc