GUIDED RECIPROCAL PEER QUESTIONING
by Tulip Bhattacharya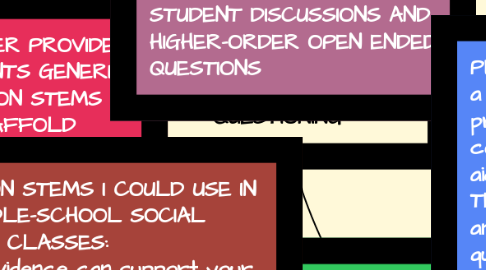 1. Do you agree/disagree with this statement?
2. What conclusions can you draw about....?
3. ADVANTAGES: INCREASES STUDENT PARTICIPATION, ENGAGEMENT & RETENTION. DEVELOPS HIGHER-ORDER THINKING.
3.1. Spanish
3.1.1. Midterm
4. TEACHER PROVIDES STUDENTS GENERIC QUESTION STEMS TO SCAFFOLD THEIR QUESTIONING.
4.1. Spanish
4.1.1. New vocabulary
5. PROCESS: Students are given a few minutes to individually prepare several content-specific questions aided by open-ended questions. The students form groups and take turns asking their questions and discussing possible answers.
5.1. English
5.1.1. Text book p. 55-60
5.1.2. Joseph Conrad "Heart of Darkness"
6. QUESTION STEMS I COULD USE IN MY MIDDLE-SCHOOL SOCIAL STUDIES CLASSES:                    What evidence can support your answer?/ What do you think causes...? Why?/ What do you think would happen if...?
7. PURPOSE: TO GENERATE STUDENT DISCUSSIONS AND HIGHER-ORDER OPEN ENDED QUESTIONS
7.1. Maths
7.1.1. Text book, exercises 34, 35, 36, 37