PERFOMANCE MANAGEMENT  & APPRAISAL
by thinh van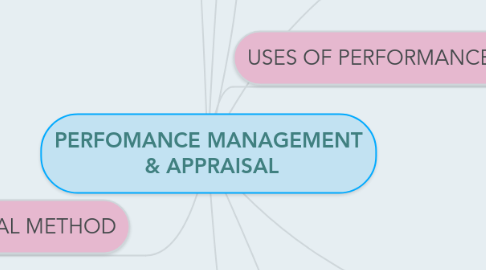 1. EMPLOYEE ENGAGEMENT
1.1. DEFINITIONS the level of commitment workers make to their employer, how willing employee do their job in extra-time & was found in employees' mind,hearts & hands.
2. PERFORMANCE MANAGEMENT(PM)
2.1. A goal-oriented process directed toward ensuring that organization are using ultimately the productivity of employees,teams & the organization
2.2. With PM, every worker's efforts should focus on achieving strategic goals
2.3. Good PM system ensures that people make good, effective use of their time.
3. PERFORMANCE APPRAISAL(PA)
3.1. A formal system of review & evaluation of individual or team task performance.
3.2. PA is especially critical to the success of performance management & it directly reflects the organization's strategic plan.
3.3. PA serves many purposes & improved results & efficiency are increasingly critical in today's globally competitive marketplace.
4. USES OF PERFORMANCE APPRAISAL
4.1. HUMAN RESOURCE PLANNING
4.2. RECRUITMENT & SELECTION
4.3. TRAINING & DEVELOPMENT
4.4. CAREER PLANNING & DEVELOPMENT
4.5. COMPENSATION PROGRAMS
4.6. INTERNAL EMPLOYEE RELATIONS
4.7. ASSESSMENT OF EMPLOYEE POTENTIAL
5. PERFORMANCE APPRAISAL PROCESS
5.1. Identify Specific Performance Appraisal goals
5.2. Establish Performance Criteria & Communicate them to employees
5.3. Examine Work Performed
5.4. Appraise Performance
5.5. Discuss Appraisal with employee
6. ESTABLISH PERFORMANCE CRITERIA
6.1. TRAITS, BEHAVIORS & COMPETENCIES
6.2. GOAL ACHIEVEMENT
6.3. IMPROVEMENT POTENTIAL
7. RESPONSIBILITY FOR APPRAISAL
7.1. IMMEDIATE SUPERVISOR
7.2. SUBORDINATES
7.3. PEERS & TEAM MEMBERS
7.4. SELF-APPRAISAL
7.5. CUSTOMER APPRAISAL
8. PERFORMANCE APPRAISAL METHOD
8.1. 360- DEGREE FEEDBACK EVALUATION
8.2. RATING SCALE
8.3. CRITICAL INCIDENT
8.4. ESSAY
8.5. WPRL STANDARDS
8.6. RANKING
8.7. FORCED DISTRIBUTION
8.8. BEHAVIORALLY ANCHORED RATING SCALE
8.9. RESULTS-BASED SYSTEM
9. PROBLEMS IN PERFORMANCE APPRAISAL
9.1. APPRAISER DISCOMFORT
9.2. LACK OF OBJECTIVITY
9.3. HALO/HORN ERROR
9.4. LENIENCY/STRICTNESS
9.5. CENTRAL TENDENCY
9.6. RECENT BEHAVIOR BIAS
9.7. PERSONAL BIAS( STEREOTYPING)
9.8. MANIPULATING THE EVALUATION
9.9. EMPLOYEE ANXIETY