Personal Loan Recapture Mar 7, 2017
by Kelly Gage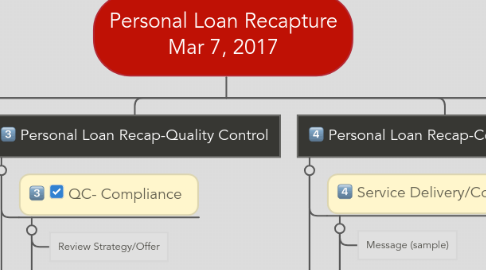 1. Personal Loan Recap-Strategy
1.1. Pricing Committee:
1.1.1. Prep Committee 1 Month Ahead of Offer Request with strategy/statistics
1.1.2. Request Approval of Offer- LTV/Term/rate, etc.
1.2. KICKOFF
1.2.1. Historical Statistics (results) & Estimated Impact
1.2.2. Set Pre-Screen Criteria (risk)- Marketing & Credit Bureau
1.2.2.1. Lending to Submit Raddon Request to Marketing
1.2.3. Confirm Timeline with stakeholders: vendors, Lending Leadership, Marketing, Service Delivery Leaders, Compliance.
1.2.4. Review NTO's & Did Wells from Previous
2. Personal Loan Recap-Vendor Managment
2.1. Credit Bureau: TransUnion
2.1.1. Prescreen Job
2.1.1.1. Marketing Pulls Direct Mail/email list per Raddon Request
2.1.1.2. Lending to QC data file
2.1.1.3. Marketing sends file to Credit Bureau with record count
2.1.1.4. Credit Bureau reviews file & develops OSL & screening Criteria
2.1.1.5. Lending reviews/approves OSL, including completion dates and screening criteria
2.1.1.6. Credit Bureau sends Final Layout & reports to WSECU; Data file to Mail House
2.1.2. Timeline- 4 weeks to process at TU
2.1.2.1. OSL Delivery?
2.1.2.2. Data file From Credit Bureau to Mail House & Final Reports?
2.2. PL Recap Mail House: Kaye Smith
2.2.1. Statement of Work- PL Loan Recap 2.2017
2.2.1.1. After OSL received from Credit Bureau develop SOW and send to Kaye Smith for estimate and timeline
2.2.2. Timeline- 4 weeks to process from File Delivery by TU
2.2.2.1. PL Recap 2.27 Data File from Credit Bureau?
2.2.2.2. Artwork/Envelope/Mailing details?
2.2.2.3. PL Recpap 2.17 Data proof QC- Delivery & Due Date?
2.2.2.4. PL Recapt 2.17 Letter Proof QC- Delivery & Due Date?
2.2.3. Message (letter/email)
3. Personal Loan Recap-Quality Control
3.1. QC- Compliance
3.1.1. Review Strategy/Offer
3.1.2. Review Screening Criteria
3.1.3. Review Message/Disclosure
3.2. QC-Consumer Lending
3.2.1. Offer- Matches Lending Guidelines
3.2.2. Message/Offer Matches Pricing Approval.
4. Personal Loan Recap-Communication
4.1. Service Delivery/Contact Center
4.1.1. Message (sample)
4.1.2. Dates/Offer/Contacts (Op Details)
4.1.3. Timeline
4.1.4. Internal Promo (if any)
4.2. Lending
4.2.1. Message (sample)
4.2.2. Dates/Offer/Contacts (Op Details)
4.2.3. Timeline
4.2.4. Internal Promo (if any)
4.3. Compliance
4.3.1. Message (sample)
4.3.2. Timeline
4.4. Marketing
4.4.1. Message (sample)
4.4.2. Dates/Offer/Contacts (Op Details)
4.4.3. Timeline
5. Personal Loan Recap-Execution
5.1. Technology
5.1.1. PL Recap 2.17 Lending Origination Systems (LPQ/CUDL)
5.1.2. PL Recap- 2.17 Symitar (Comments/tracking records)
5.1.3. Op Details on SharePoint
5.1.4. Messaging on FEBE
5.2. Mail/Email Drop
6. Personal Loan Recap-Reporting
6.1. PL Recapture 30 day Results
6.1.1. 30-60-90 day results
6.2. PL Recapture 60 day Results- Pricing Package
6.2.1. Campaign Code reporting