Careers Supprt System
by
Matt Ballantine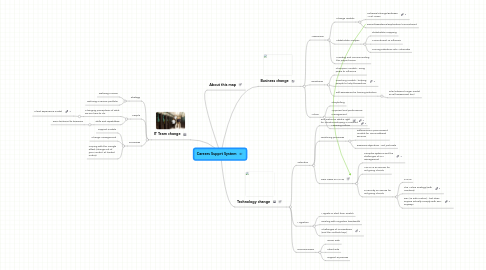 0.0
stars - reviews range from
0
to
5
Careers Supprt System
There are three distinct paths of change that need to be addressed in any move to Cloud-based software as a service (maybe also for IAAS or PAAS) - changing the technology (the bit that IT teams are most experienced in); changing the business (which we've talked about for a decade, but have struggled to realise); and changing the IT Team (which is often overlooked entirely)
Business change
Awareness
Change models, Unfreeze/Change/Refreeze - Kurt Lewin, Denial/Resistance/Exploration/Commitment
Stakeholder analysis, Stakeholder mapping, Commitment vs influence, Turning saboteurs into Advocates
Creating and communicating the project vision
Readiness
Champion models - using peers to influence
Coaching models - helping people to help themselves
Self-assessment & training selection, Filer/Inboxer/Purger model & self assessment tool
Action
Storytelling
Appraisal and performance management
Developing a Constant Learning culture
IT Team change
Strategy
Defining a vision
Defining a service portfolio
People
Changing perceptions of what we are here to do, Client experience model
Skills and capabilities, From technical to business
Processes
Support models
Change management
Coping with the Google effect (change out of your control, at limited notice).
Technology change
Technology change is the area where IT Teams have the most experience. It's a different world with Cloud, though, because you implement and then have very little technology to worry about at the end of the project  
Selection
2x2 matrix on what's right for cloud
Tendering processes, Differences in procurement models for commoditised services, Business objectives - not just costs
New views on SLAs?, Complex systems and the challenges of SLA management, Are SLAs an excuse for not going Cloud?, Is Security an excuse for not going Cloud?, SAS70, The Airline analogy (with numbers), DPA (& Safe Harbor) - but does anyone actually comply with DPA anyway?
Migration
Migrate or start from scratch
Dealing with migration bandwidth
Challenges of co-existence (and the Outlook trap)
Decommission
Server side
Client side
Support & process
About this map
A work in progress... I've been asked to pull together a seminar for the Cloud Circle group. This map pulls together thinking about what it might look like, and links out to other materials and articles I've written in the past few years. Feel free to edit, add comments, ask questions...