EFFECT OF MALAY-CHINA TRADE RELATIONS DURING THE MALACCA SULTANATE ON THE EMERGENCIES OF CHINESE PERANAKAN COMMUNITY
by Nurus Shobah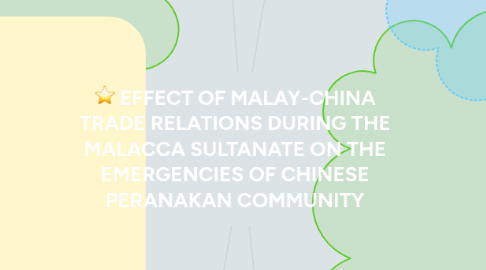 1. COMMERCIAL ACTIVITIES IN MALACCA
1.1. Being strategically located at the confluence of the South China Sea, the straits of Malacca and the Sunda Straits is an important factor that makes Malacca call traders from India, China, Arab and so forth.
1.1.1. Its harbor which was situated in protected zone, was safe from the threat of the Southwest Monsoon and Northwest Monsoon
1.2. according to Tome Pires, there were about 84 different language spoken in Malacca.
1.3. Malacca also conducted through the medium of the local currency made of tin
1.4. Served as a distribution centre for goods brought to Malacca to other places.
1.5. increase in population in Malacca due to:
1.5.1. Malacca strategic geographical position in the international trade route.
1.5.2. due to the effort of the state government of Malacca prospering with the the trade and diplomatic ties with the foreign countries.
2. CHINA TRADE RELATIONS AND MALACCA
2.1. Establishment of Malacca Empire by Iskandar Shah gained attention from the Emperor Yung Lo of China to establish international relations to ensure its economic progress, power and widening the influence of the Chinese government.
2.2. Messenger named Ying Chen sent by Emperor Yung-Lo to Malacca to establish diplomatic relations.
2.3. The trade relation seen clearly via the response of Ming government when they changed their trade policy and eliminated the closed-door policy.
2.4. Admiral Zheng He's visit to Malacca had laid foundation to Malacca as the center of international trade.
2.4.1. The recognition saved Malacca from the threats of Siam
2.4.2. Giving significant impact on the development of Malacca as an important trade center.
2.5. The effects: intermarriage between Chinese traders with local Malay women had spawned the Chinese Peranakan Community.
3. HISTORY OF CHINESE ARRIVAL IN MALACCA
3.1. Coming of the Chinese officially to Malacca took place by a visit of Admiral Yin Ching in 1403.
3.2. At the beginning of the 15th century, Admiral Zheng He made several Expedition including visit to Malacca as delegation sent by Emperor Yang Lo in 1408.
3.2.1. Zheng He brought with him a writer name Fei Xin, who made about the expedition made by Zheng He.
3.3. In the Malay Annals, there is important records related to the marriage of Sultan Mansur Shah with princess Hong Li Po, they were blessed with a son named Paduka Hamad.
3.3.1. According to Tan Chee Beng, although Sultan Mansur Shah had married a Chinese woman, the woman did not  need to be a princess.
3.3.2. The story of Princess Hong Li Po and her followers has never been found in any Chinese records.
3.4. Hong Li Po's arrival was accomponied by an escort of 500 Chinese maidens who also converted to Islam.
3.5. Tome Pires recorded in his writings that there was a marriage between Xaquen Darxa with the daughter of Chinese leader who accompanied him back to Malacca after visiting China.
3.5.1. Xaquen Darxa: probably Sultan Iskandar Shah
4. EFFECT OF COMMERCIAL ACTIVITY AGAINST CHINESE PERANAKAN COMMUNITY FORMATION IN MALACCA
4.1. According to Winstedt, since Islam forbids marriage between Muslim and non-Muslim individuals, most Chinese wives consisted of slaves among non-Muslims.
4.2. Mary F.Somers Heidhues also have similar opinion with Windstedt.
4.2.1. She also argues that intermarriage occurs between the Chinese with local women and non-Muslim such as Balinese women or non-Muslim women from the slaves.
4.3. Subsequent marriage occured mostly in the community itself and caused the Chinese Peranakan Community known as Baba and Nyonya in Malacca.
4.4. In 1819, some Chinese Perakan Community had migrated to Singapore to pursue better opportunities.
4.5. Until the 18th century, the Chinese Peranakan Community had formed a strong group in this country.
4.5.1. If referred to the ancestor of the two famous figures of the famous Tun Tan Cheng Lock and his son Tun Tan Siew Sin, their ancestpr was Tan Hay Kwan, who had lived in Malacca, died in 1801 and was buried in Ayer Lelah, Malacca.