Information and Communication Technology
by Christee Jane Martos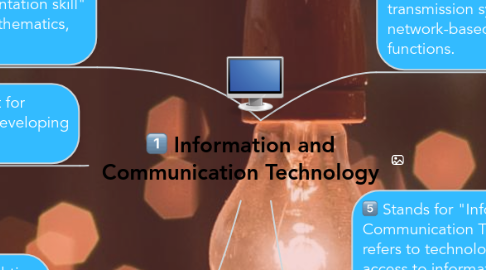 1. refers to all the technology used to handle telecommunications, broadcast media, intelligent building management systems, audiovisual processing and transmission systems, and network-based control and monitoring functions.
2. Proved that an  increase in student exposure to educational ICT through curriculum integration has a significant and positive impact on student achievement, especially in terms of "Knowledge・Comprehension" · "Practical skill"  and "Presentation skill" in subject areas such as mathematics, science, and social study.
3. ICTs are crucially important for sustainable development in developing countries.
4. people can communicate in real-time with others in different countries using technologies such as instant messaging, voice over IP (VoIP), and video-conferencing. Social networking websites like Facebook allow users from all over the world to remain in contact and communicate on a regular basis.
5. Stands for "Information and Communication Technologies." ICT refers to technologies that provide access to information through telecommunications. It is similar to Information Technology (IT), but focuses primarily on communication technologies. This includes the Internet, wireless networks, cell phones, and other communication mediums.