IRAU PLANNING
by
Sinabu RajaDita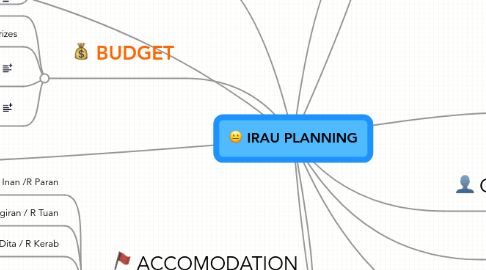 0.0
stars -
0
reviews range from
0
to
5
IRAU PLANNING
ACCOMODATION
Sina - R Inan /R Paran
Raja Pengiran - R Pengiran / R Tuan
Ulung Palang - R Dita / R Kerab
Sina Midang - Dr. Philip, Freda
Raban / Sinah Ketuan- 2 rooms for Guests
Cees Verspoor Karin & Harm
Priscilla's Parents
PROGRAMME
Pre-Irau guest programmes
Hash
Ma'an Kayuh
Tupah pade
Day - Traditional Games
NO Pig Lifting!
Greasy Pole
Blowpipe
Tug of war
Leg wrestling
Speeches
R Paran requests MINIMUM speeches
MC (Tadun Aran/Dr. Philip) - Welcome
Pemanca - Explain tradition
MC (Dr. Philip/Tadun Aran) - Announce & Explain Ngadan
Raja Paran / Raja Kerab - Thank you
Performances
Ngarang Kadang
Ngarang Competition - foreign in-laws & guests
Adih - Sina Sinah Ruth
Uput Aluh
Mekasur - Lun Pukat/Pumur
Prize Giving / Lucky Draw
Disco
R Dita volunteer to be DJ. PA/sound system available?
LOGISTICS
Flight Bookings
Pending Firefly takeover announcement
Guest List
Supplies
Shopping List
LOCATION
Pa Ukat
Balai Raya
Rental?
Kitchen?
Ulung Palang
Readiness?
COMMITTEE
BUDGET
Gifts
1 Pa Ukat sidang 2 Ngeberuh Ngadan
Lucky Draw Prizes
Prizes - games and competition
1 Ngarang competition 2 Games 3 Greasy Pole 
Rough ESTIMATE
1.) 1 full grown buffalo                                              RM2,000.00 2.) 3 full grown pigs @ RM2,000.00 each                   RM6,000.00 3.) Firewood                                                            RM800.00 4.) Rice (6 bags at RM160.00 each)                          RM960.00 5.) Sugar (1 sack)                                                    RM150.00 6.) Tea/Coffee/Milo/Milk                                            RM500.00 7.) Biscuits/goodies                                                 RM300.00 8.) Transportation for goods (Miri-Bario-Pa Umor)        RM500.00 9.) Local labour charges                                           RM500.00 10.) Paper/plastic cups, spoons, wrapings, etc.          RM200.00 11.) Prizes - games & competition RM 150 12.) Tekip/keluma' for mekaa' ngadan @RM15/person RM 300 13.) Misc. items                                                       RM500.00                                                Total                        RM13,310.00                                                    It's customary to give RM50.00 per Kampung as gifts.So with 12 Kpgs, you can add on another RM600.00.
SCHEDULE
ARRIVALS 26TH-28TH
IRAU: 28/12/07
Departure 29Th-31ST
DECOR
use all traditional / local
Kelulung
Daun Ilad & Kenangan
On the whole tawak - walls and beams
Binen / ra'ing for distributing nuba'
Battery operated lights
SRP to bring
Tea lights & paper lantern for lighting the path
Can we find tea lights in Miri? Fire resisitant paper lanterns from Holland 
Sepiung / flowering shrubs
For decorating stage
Bamboo vase for terubpung or torch ginger
put on the diri
MENU
Nuba' Laya'
Ebpul Labo
Kikid
Ideas to serve? Please not in the plastic buckets
Biscuits
Tea / Coffee
Orange Squash
PREPARATIONS
Pack sweets /chips / packet drink
Do this in advance in Miri
Sapa' Arit for girls
Battery operated wall light
For house 
List of 'Ngeberuh/Mekaa Ngadan'
Raja Paran Raja Kerab 
Bring sleeping bags
Bala Sidang / Invitations
Buluk for ebpul labo
Tama Rahman to prepare
add new ideas - click here
Click tab for sub-idea
New node