Sara Reigh's Mind Map Vocab Project
by
Sara Reigh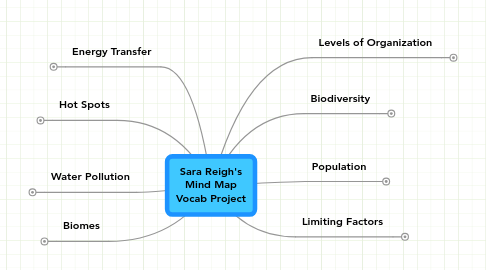 0.0
stars - reviews range from
0
to
5
Sara Reigh's Mind Map Vocab Project
Levels of Organization
Biospere
Biome
Ecosystems
Communities
Population
Organism
Energy Transfer
Producer
Primary Consumer
Secondary Consumer
Tertiary Consumer
Consumers
Trophic Levels
Food Chains
Food Webs
Biomes
Rainforest
Temperate Deciduous Forest
Coniferous Forest
Desert
Tundra
Grassland/Savannah
Freshwater Biome
Marine Biome
Limiting Factors
conditions of the environment that limit the growth of a species
biotic and abiotic factors that prevent the continuous growth of a population
Carrying Capacity
Ecological Succession
Biodiversity
Biodiversity is the variety of organisms in a geographic area that provides us, as humans, with essential natural resources.
When humans destroy the environment, there are three threats to the environment that they cause...
Hot Spots
Biodiversity "hot spots" are where more than half of the Earth's species are found and they are mostly found in the tropics.
These "hot spots" cover 2% of land area.
There are 17 regions on the Earth and they are very limited so they are sensitive to habitat degradation.
Population
Population Growth
Black Plague
Industrial Revolution
Exponential Growth
Sustainablilty
Logistic Growth
J-curve
S-curve
Population Growth Rate
Water Pollution
contamination of water
Point Source
Earth's Total Water Supply
Non-Point Source
Aquifer