Age Debates
by
Cody House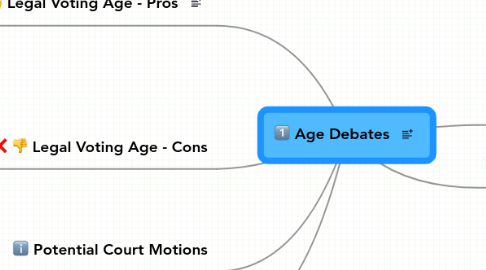 0.0
stars -
0
reviews range from
0
to
5
Age Debates
Welcome to the great Age Debate. This is a battle ground for classmates to present their thoughts and perspectives on some different debates that come up in society. This goes without saying, be considerate and professional throughout this debate. You will be held accountable for harsh and unnessecary posts. Also, be sure to link to interesting articles or outside resources that you think support your cases. Bonus points for those outside resources that are from credible sources. If you aren't sure if it's credible then it probably isn't!
Legal Voting Age - Pros
Be sure to provide details to defend your stance
Pros
Legal Voting Age - Cons
Cons
Potential Court Motions
This House would lower the voting age to 16
This House believes 16 is old enough
This House would trust young people more
That 16 year olds are mature enough to be entrusted with the franchise
Context to Consider
The right to vote is one of the most important human rights. It gives men and women the chance to have a say in the way they are governed. It allows them to get rid of bad governments and makes sure that any government listens to its people, for fear of being thrown out at the next election. It is one of the most important ways in which other rights (e.g. free speech, the right to a fair trial) are protected. Not every country in the world is a democracy, with free elections giving citizens a fair political choice. But the right to vote is spreading and outright dictatorships are increasingly few on every continent. Yet what should that right to vote mean? A century or so ago almost no countries allowed women to vote, and it took decades of struggle for them to win political rights. Fifty years ago countries such as South Africa and many states in the USA limited the rights of black people to vote, but that too has changed for the better. Now every democracy accepts that all adult citizens should have the right to vote. But what does adult mean? In almost every country adult is taken for voting purposes to mean 18. 142 countries have 18 as their voting age. Some others (such as Taiwan and Japan) do not give their young people the right to vote until they are 21. But in several countries the voting age is younger - in Korea, Sudan and Indonesia it is 17, in Brazil, Cuba and Nicaragua it is 16, and in Iran it is as low as 15. And in a number of well-known democracies such as the UK, USA and Australia there are growing movements to lower the voting age to 16. This topic looks at the case for lowering the voting age to 16, but the arguments below could be used for a debate about a different voting age (perhaps 14?). Another issue to consider is whether the same age should be used for all kinds of voting (e.g. local elections, state elections, national elections, referenda). And should young people gain the right to stand for election at the same age they get the right to vote? In many countries, such as the UK and United States, you can vote at 18 but can't stand for elected office until you are 21.
Legal Drinking Age - Cons
Because teens are simultaneously undergoing physical changes, peer pressure, and new situations and urges, allowing them to consume alcohol can make them more vulnerable to drug and substance abuse, unplanned and unprotected sex, depression, violence, and other social ills.
Current MLDA laws set at 21 are working because the percentage of underage drinkers has decreased since 1984.
When teens drink alcohol, they are more likely to binge drink than people above the age of 21, thus demonstrating that teens are more prone to alcohol abuse than older demographics and should not be allowed to consume alcohol.
Teenagers are dumb enough already!
Context to Consider
All 50 US states have set their minimum drinking age to 21 although exceptions do exist on a state-by-state basis for consumption at home, under adult supervision, for medical necessity, and other reasons. Proponents of lowering the minimum legal drinking age (MLDA) from 21 argue that it has not stopped teen drinking, and has instead pushed underage binge drinking into private and less controlled environments, leading to more health and life-endangering behavior by teens.
All 50 US states have set their minimum drinking age to 21...