iPad/iPhone and Accessibility
by
Kevin Hickey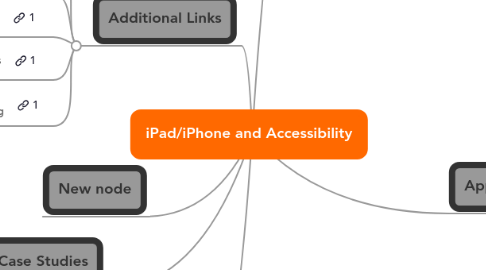 0.0
stars - reviews range from
0
to
5
iPad/iPhone and Accessibility
Large Text
Triple click
All avalable via Settings>General>Accessibility
Key to Icons
A number of similar apps are available
Note Taking Apps
  Records audio as you are typing or drawing notes.  
eBook Readers
There are several ebook readers which read books in different formats and have different accessibility features
MindMaps
Symbol based communication tool.  Reads words and phrases out load when symbol buttons are pressed. Costs over £100
  Create and play back photo stories with recorded audio and text attached  
Use the camera to take a photo of text, this app converts this into digital text which it can then read out loud.
  Reads aloud text which is typed in.  Has 4 voices built in.  Supports multiple languages.  
records audio and sends this as an email either as an audio file or it can convert the audio into text.
Google mobile can seach a spoken request as well as one which is typed in.
BSL FingerSpelling
iCanSee
Use camera to turn iphone into a basic magnifying glass
Colorid
Use camera to turn iphone into a basic magnifying glass
Symbol based communication app
Shake the device to display a cartoon face with a different expression.  Can be used with Autistic learners  
Last Wednesday, my life changed forever. I got an iPhone. I consider it the greatest thing to happen to the blind for a very long time, possibly ever.
New node