How will researching what asteroids are made of help us survive on Earth until 2100?
by Gabriela Vasconcellos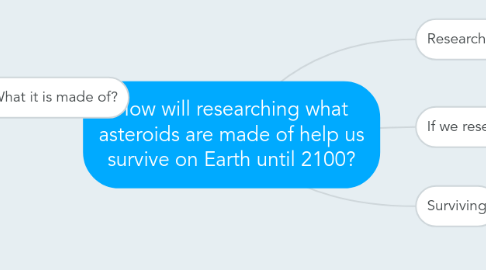 1. Researching
1.1. Researching will help us survive because of there every is an asteroid coming to crash on earth we would be able to know about the size.
2. If we research
2.1. When there is research done on something we always learn more about it we always or usually find something new to explore.
3. Surviving
3.1. If one day on the news we here that an asteroid is going to crash onto earth we could know what to do with the research. We would learn where to hide and how to protect ourselves from it. Maybe we could get a material that can resist the type of rock it is. That is how we could survive until 2100.
4. What it is made of?
4.1. An asteroid is made of rocks. It becomes an asteroid when it gets into our galaxy and it will rush down onto earth having a high impact on Earth.